Saadi, Iranian Great Poet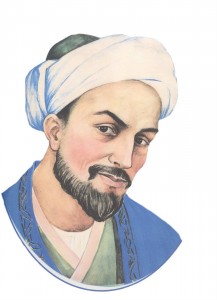 Abu-Muhammad Muslih al-Din bin Abdallah Shirazi known as Saadi is one of the Iranian great classical poets who belonged to the medieval period. Saadi is famous for his writings and his social and moral thoughts as far as he was recognized as Master of Speech.
Saadi was born in Shiraz, Fars Province, Iran. Some believe he was born in 1200 and some others say he was born between 1213 and 1219.  He studied Islamic Sciences and Theology, Law, history and Arabic Literature at Baghdad University, Iraq. After the Mongol invasion to Iran, he was wandering for about thirty years and traveled to other countries such as Syria, Anatolia, Egypt, Mecca, Medina, Jerusalem, Oman, etc. After years, he came back to Shiraz before 1257. He finally died between 1291 and 1294.
 Saadi's Works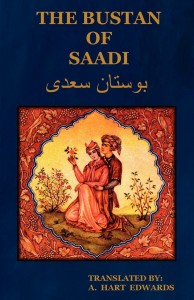 Saadi has two famous works, Bustan and Gulestan. Bustan which literary means "orchard" was completed in 1257. This work is entirely in verse. Bustan was his first work. It contains Saadi's experiences in life and his travels.
Gulestan literary means "the rose garden" was also completed in 1258. It is one of the most popular books in the east and even in the west and is widely quoted as a source of wisdom. Gulestan is in prose and contains some stories and anecdotes of Saadi's travels.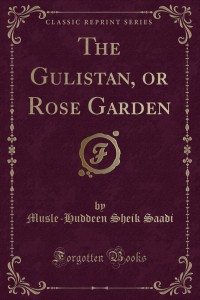 The most famous Saddi's aphorisms were written on United Nations building entrance:
Adam's sons are body limbs, to say;
For they are created of the same clay.
Should one organ be troubled by pain,
Others would suffer severe strain.
Thou, careless of people's suffering,
Deserve not the name, "human being".
Saadi Mausoleum
Saadi's mausoleum is located at the end of Bustan St., Shiraz, Iran. It is worth noting that this place was originally the monastery of this prominent poet of the seventh century, where he spent the rest of his life there and was buried in the same place after his death.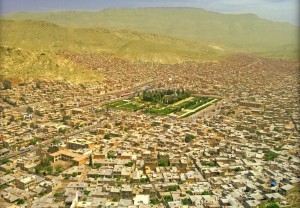 What is currently called the Tomb of Saadi is the result of one of the most prominent Iranian architects' work, Mohsen Forooghi. He and Ali Akbar Sadiq designed this structure in 1330 inspired by the elements of Iranian traditional architecture.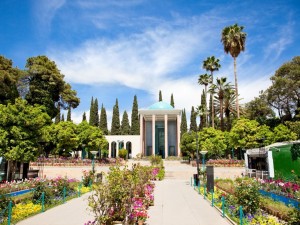 From the outside, the cemetery is in the shape of a cubic, but inside it is octagonal, surrounded by marble walls and an azure dome. The tombstone of this great poet is in the middle of the octagonal mansion, with a ceiling decorated by turquoise. There are seven inscriptions on the seven sides of this structure, on which some odes from Gulestan and Bustan can be seen. On another inscription, there is an explanation of how the tomb was built.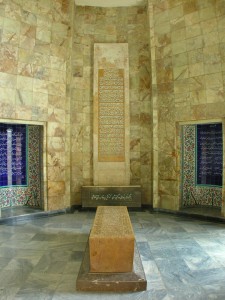 One of Saadi's couplet has been written in the entrance door. The Persian lines can be translated as follow:
Though a thousand years should pass since Saadi's demise,
There still would arise from his dust a fragrant breeze.
On two sides of the tomb's building, and in the middle of the yard, which is beautifully decorated with flowers and trees, there are two rectangular ponds. The pond which is opposite the main porch of the building is called "coin pond" where people throw a coin and make a wish. They believe in this way the wish comes true. There is also an octagonal pond which is called "fish pond".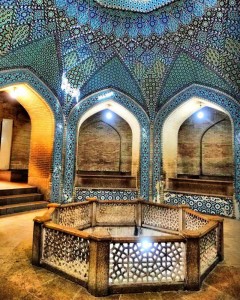 Iran Sun World, as an Iranian Tour Operator and Iran Travel Agency, can provide you best services with least prices. Iran Sun World shows you the best places in Iran through its various packages.