Persian New Year – Nowruz Ceremony and Haft-Seen 
Iranian New Year or "Nowruz" is celebrated by Iranians worldwide. Nowruz has been celebrated for over 3,000 years. This holiday marks the exact beginning of spring in the Northern Hemisphere that is the first day of the first month (Farvardin) in the Iranian Calendar.
"Nowruz" means "new day" in Persian ("Now":new and "ruz":day). This festival is one of the most important holidays in Iran. This traditional ceremony is deeply rooted in the rituals and traditions of the Zoroastrian religion. Nowruz is celebrated in Iran, India, Iraq, Afghanistan, Azerbaijan, Uzbekistan, Kazakhstan, Tajikistan, and Kyrgyzstan. All these countries located in the historical Persia cultural region_ borrowed this traditional festival and its customs from old Persia.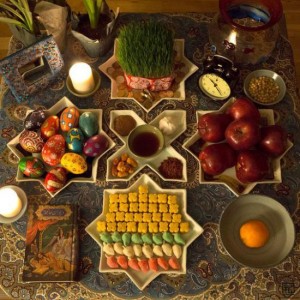 The spring festival of Iranian origin was recognized by UN General Assembly as the "international day of Nowruz" in 2010. Indeed, Nowruz was officially registered on the UNESCO List of Intangible Cultural Heritage of Humanity.
There are some beautiful customs that have been done for centuries ago. During the Persian new year ceremony (from the first to the 13th day of spring) Iranian people pay house visits to one another. Typically, the youngers visit the elders first, and the elders return their visit later, to tie their relationships stronger.
During this period all people are really happy and try to go to nature to make good times for their family. The springs in Iran are really beautiful and the weather is fantastic in most parts of Iran (except north and northwestern parts), so this is a good time for traveling. 
Prior to the new year, the Iranian people usually do a significant amount of Spring Cleaning to get rid of last year's dirt and germs to prepare for Nowruz and a good year. this custom is a symbol of renewing everything in the new year even for old thoughts and spiritual values.
 HaftSeen custom is an old tradition tied with Nowruz and new year in Iran. Family members usually gather around the Haft Seen on the first day of Nowruz and await the exact moment of the arrival of the spring.
 Haft Seen (seven elements start with "s" sound) is decorated with some items that represent the new season. Each item is a symbol of a wish for the new year. The items include Quran, the Holy Book; Hafez's Divan (Poem book of Hafiz); a mirror; swimming goldfish; decorated eggs; Seeb (apple; representing beauty); Seer (garlic; representing good health); Serkeh (vinegar, representing patient); Sonbol (hyacinth; representing spring); Samanu (sweet pudding; representing fertility); Sabzeh (sprouts; representing rebirth); and Sekeh (coins; representing prosperity and wealth).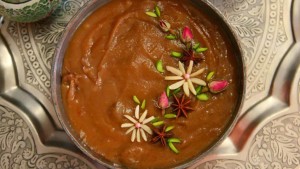 Samanu (sweet pudding)
Samanu is a very delicious Iranian food witch is traditionally cooked for the new year. It's difficult preparing food made with ground wheat germ and is a very healthy meal that contains many vitamins and a high portion of energy. In fact, it is served as an Iranian dessert.
Usually, Haft-seen is decorated with water-mouthing traditional Iranian confections and candies such as "lowz" (almond sweetie), "Sowhan" (honey candy), and traditional pea cookies.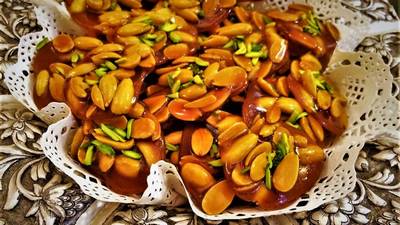 | | |
| --- | --- |
| | Lowz- traditional Iranian and delicious sweetie made with Almond |
Different decorations of Haft-Seen table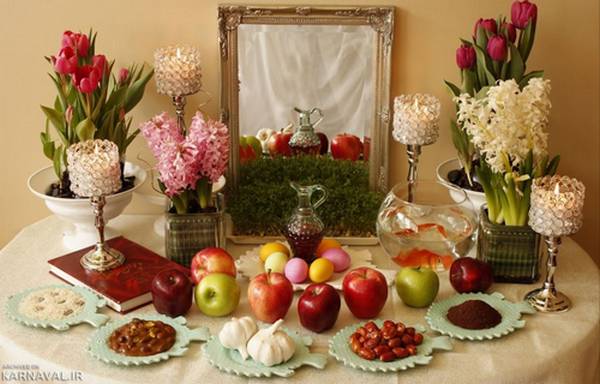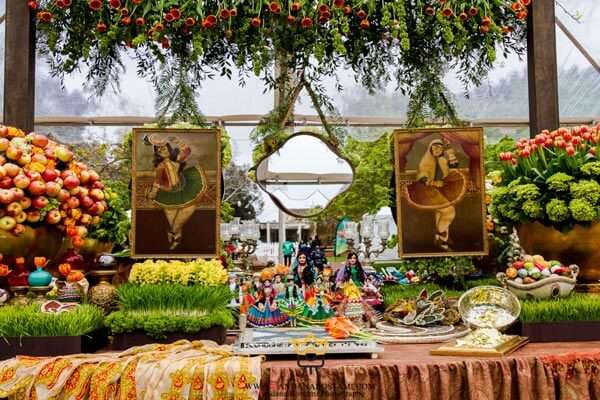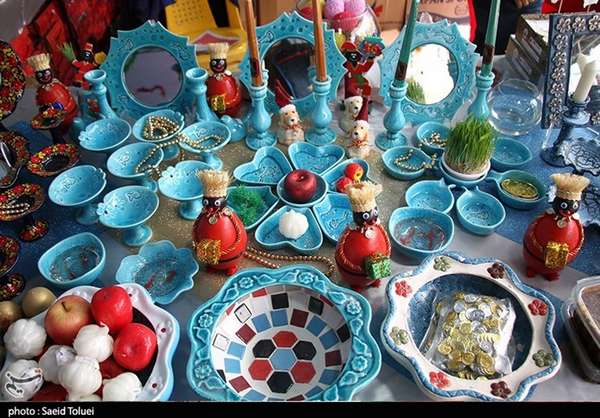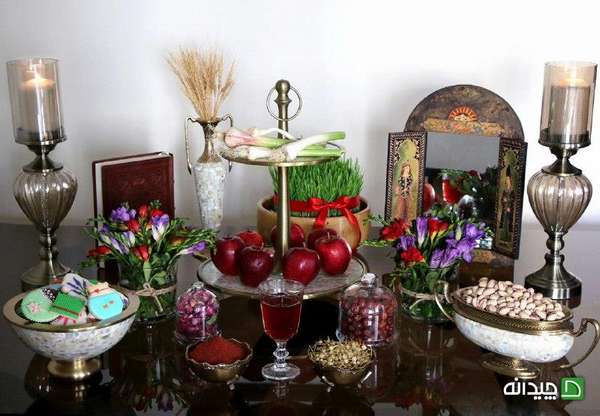 "Sizdah Bedar" Excursion
On the last day of the new year festival which is called "Sizdah Bedar" (meaning thirteen outdoors), Iranian people go out in groups and spend all day outdoors in nature with some special customs.
Persian new year holidays (21 March – 2 April) is one of the best times you can travel to Iran. You can participate in Nowruz ceremonies and travel to different cities to enjoy diverse customs. The weather is also fantastic at this time especially in the southern parts of Iran. Tourists will enjoy visiting the blooming trees in the spring nature under the shining sun.
Sun World, as an Iranian Tour Operator, Welcomes Travelers to Enjoy Iran Nature and can help tourists to become more familiar with Persian Nowruz customs. Don't miss this great feast and all of its happiness. 
Travel to Iran by Iran Sun World, an Expert Travel Agency.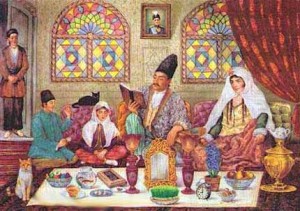 for further information about Nowruz and its customs read this article in Persian