White Cane Day
since 1964, "White Cane Safety Day" is celebrated each year on October 15. White cane, as the toll of independence, is the symbol of citizens who are blind. It is used by those who are blind or visually impaired.
On July 6, 1963, The National Federation of Blind was assembled. a joint resolution of the U. S. Congress, HR 753, was signed into law on the 6th day of October 1964. This law authorized the U. S. president to proclaim October 15 as White Cane Safety Day annually. The proclamation said:
"The white cane in our society has become one of the symbols of a blind person's ability to come and go on his own. Its use has promoted courtesy and special consideration to the blind on our streets and highways. To make our people more fully aware of the meaning of the white cane and of the need for motorists to exercise special care for the blind persons who carry it Congress, by a joint resolution approved as of October 6, 1964, has authorized the President to proclaim October 15 of each year as White Cane Safety Day."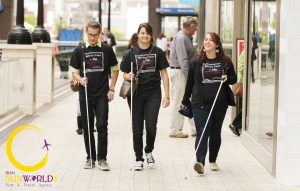 Since October 2017, an estimated 253 million people live with visual impairment. 81% of them are aged 50 years and above.
In the past it was unusual to see a blind person working, walking, playing, etc.; notwithstanding it is still uncommon, today, the other people believe more on blind persons, their abilities and their independence. The blinds are able to go, to move, and even to compete with all others. The symbol of this independence is a simple tool, the white cane. It enables a blind to move about freely.
October 15 was named "White Cane Safety Day" to make everyone aware of the significance of a white cane and to encourage blind people. It is also to educate the world on how blindness can live and work independently.
Hoping that one day the world will become a more beautiful place for the blind.
Travel to Iran, Travel to the Land of history, Land of Mystery, Land of Persia to Visit Most Beautiful Sites Ever Been.
Travel to Iran by Iran Sun World.