Asalem-to-Khalkhal Road: The Most Dreamy Iranian Forest Road
Where is Asalem to Khalkhal Road?
The bucolic wonderful Asalem to Khalkhal Road is located in northwest Iran. It connects Khalkhal city in Ardabil Province to the Asalem village in Gilan Province. It is known as the most dreamy Iranian forest road due to its special mountainous conditions and the combination of jungle and the plain.
The Climatic Condition of Asalem to Khalkhal Road
The Asalem to Khalkhal Road, which is even cold in the summer due to locating in a mountainous region, is often closed because of heavy snow and heavy rains during the fall and winter.
In the spring, beautiful poppies grown there add a special view to the Asalem to Khalkhal Road. This beauty is multiplied by the presence of the fog. There is also a beautiful lake called Neor Lake on this route. The pleasing and attractive scenery of Neor Lake and walking in the highlands and pastures of the Sobtan Village are among the beauties of this road. The most suitable season to travel to Asalem to Khalkhal Road is from late April to mid-Fall.

How to Get Asalem to Khalkhal Road?
You can take the route from Asalem to Khalkhal or vice versa. The two villages are located within two different provinces i.e. Ardabil and Gilan. The whole route is 70 km long. It takes about two hours to cross it. Asalem is 404 km away from Tehran.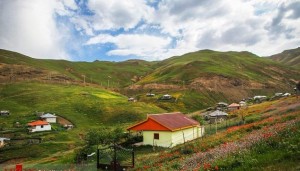 The Best Activities One Can Do in Asalem to Khalkhal Road
– Driving in a dreamy road;
– Mountaineering;
– Riding bike;
– Jungle trekking;
– Taking photo and camping; and
– Having delicious food.
The beauty of jungle, escaping from urban traffic and pollution, the locals' life, the production of organic honey, the presence of high waterfalls and large lakes, the plains of beautiful flowers and rare plants, the green slopes and white sheep flocks traveling far away, the lush landscape, Heavenly valleys, and the tall and trees whose their shadow sometimes darken the road, etc. are parts of the beauties of this dreamy road.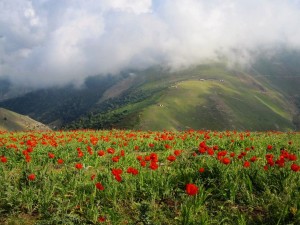 Where to Stay in Asalem to Khalkhal Road?
To stay on the Asalem to Khalkhal Road, you can book hotels or eco-lodges in the cities of Khalkhal and Asalem. You can also rent local houses which are popular and easy to find. There are also numerous signs along the road claiming to rent cottages.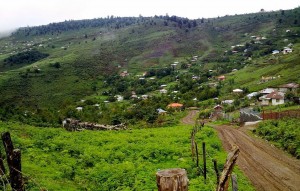 What to Eat on Asalem to Khalkhal Road?
In most restaurants, you can enjoy both Iran national foods and Iran traditional foods such as Ash-e Dough (an herbal soup cooked with chickpeas and dough), Mirza Qasemi (cooked with eggs, eggplant, garlic, and tomato), Kebabs (with fresh meat cut right in front of you), etc. There is a huge variety of Iranian cuisines you can taste. For breakfast, you can have an omelet, cheese, butter, and jam, etc.
Safety Tips for Traveling along the Asalem to Khalkhal Road
Asalem to Khalkhal Road is a bend one and has deep valleys; so take caution in driving. As the forest section finishes, the inappropriate condition of this road surface requires more caution in driving. There are no gas stations in this area and you need to fill your car's tank with gasoline. Please try to save the beautiful nature of Asalem to Khalkhal Road.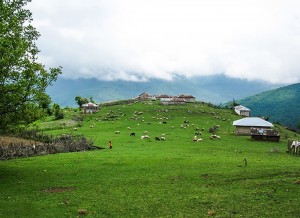 The Asalem to Khalkhal Road is amazing and the scenery changes constantly. Iran Sun World Tour and Travel Agency offers all kinds of tours such as trekking tours to the mountainous road in Iran.