Badab-e Surt, a Rare Geologic Masterpiece
Mazandaran Province is full of beauty. Badab-e Surt is a natural site 95 km south of Sari, the capital of Mazandaran Province. It is near Orost Village. This fantastic site created over thousands of years (Pleistocene and Pliocene geological periods) comprises a range of stepped travertine terrace formations.

The Etymology of Badab-e Surt
"Badab" is a Persian word that comprises Bad (gas) and ab (water) which in general means gassed water. "Surt" or "Soort" is also an old name for a village called Orost. This village is located near this attraction.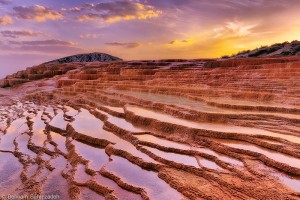 Badab-e Surt Springs
This rare natural wonder has two mineral hot springs sending water bubbling down the mountain from over 6,000 feet above sea level. The first spring, having medicinal properties for some types of skin diseases, contains salty water. The second one which is mainly orange (due to its iron oxide sediments) has a sour taste.
carbon dioxide degases from the water when calcium carbonate and iron carbonate reach the surface. When the light hits the terraces, it makes the puddles glow with the red, orange, and yellow tones, and that is the reason that makes this site so beautiful and unique although there are a handful of similar places on earth.
In this photogenic site, you can find the traces dedicated. The color of the water and rock is unique. The color of the water changes as the solar radiation reflects in the water.
Badab-e Surt crafted by nature has a great view of sunrise and sunset. You can feel God's power in nature.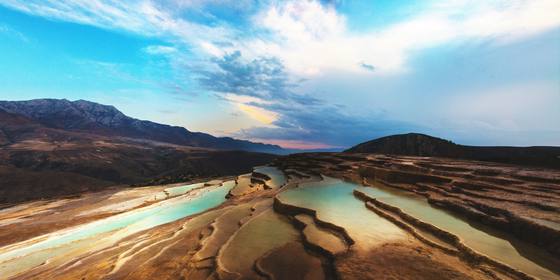 How to go to Badab-e Surt
It is better to go there with a guide. If you travel through a travel agency, there is no problem. However, if you are a backpacker try to ask for a local tour guide. Sari is the nearest city.
All vehicles cannot help you to reach Badab-e Surt. You need to hike or ask cars such as a tractor. The journey may be slow, However, you can enjoy the gorgeous nature around.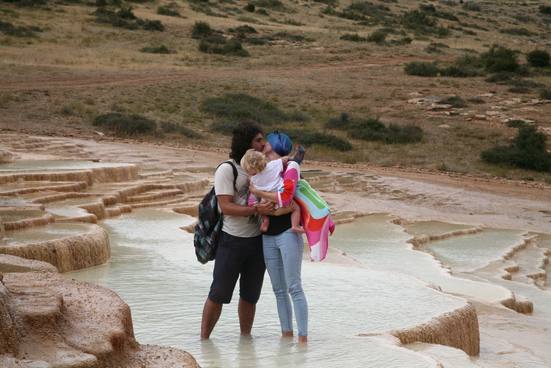 Sun World, as an Iranian Tour Operator, welcomes travelers to Enjoy Iran Nature Tours, Iran Eco-Tours, Iran Architecture Tours, Iran Historical Tours, Iran Sports tours, etc.
Travel to Iran by Iran Sun World, a Tour Agent.