Termeh, a Luxurious Persian Fabric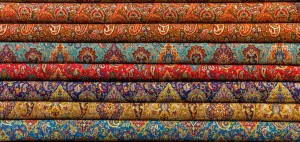 One of the best Persian souvenir is Termeh which attracts the attention of most travelers. This fabric is a type of Iranian handwoven cloth. Termeh is produced by silk and wool; gold and silver are also incorporated into the weave. It is woven by expert weavers. Its production is sensitive and time-consuming; thus only 25 to 30 centimeters (10 to 12 inch) is produced in a day.
The natural colors (usually a vegetable source) are used to weave Termeh. Red, green, orange and black are among the most used colors. However, red and its different shades are the most common background colors in producing Termeh. It has its root in Iranian culture and tradition which dates back to Achaemenid (532 B.C.) era (about 2500 years ago), and reach its zenith during Safavid Period in 16th century in which Zarbaf and Termeh weaving techniques were significantly refined.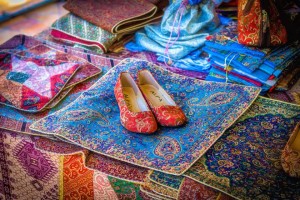 Temreh is mostly used for decorative purposes in important ceremonies such as weddings. It can be used as spread sheet, table-cloths, tights, scarves, cushion covers, curtains, garments, robes, royal headdress, bags, shoes, etc. Among Termehs produced in Iran, Yazdi and Kermani are the most famous ones. Marco Polo, traveling the Silk Road, mentioned this product as a great silk tissue which merchants carry into many quarters to dispose of.
One of the most common motifs in producing Termeh is paisley or botteh. Furthermore, Termeh is designed by certain patterns such as cypress tree, fish, bird, and geometric shapes. The value of Termeh is assessed based on the quality of the threads; incorporation of gold and silver into it; the number of colors; number of layers; the existence of border; five woven designs; and the uniqueness of the design.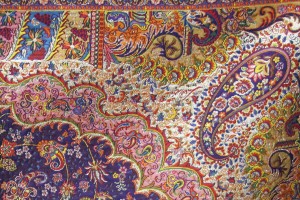 Sun World, as an Iranian Tour Operator, Welcomes Travelers to Enjoy Iran Nature Tours, Iran Eco-Tours, Iran Architecture Tours, Iran Historical Tours, Iran Sport tours, etc.
Travel to Iran by Iran Sun World, a Tour Agent.