Hamedan, the Tourism Capital of Asia in 2018
Hamedan, the capital city of Hamedan Province, is among the oldest Iranian cites. In old Persia, it was called Hegmetane and Ecbatana. It was occupied by the Assyrians in 1100 BCE. According to Herodotus, a Greek historian, it was the capital of Medes in 700 BCE. The majority of its population is Persian and the minority is Azerbaijani.
Placing in the Midwest part of Iran and 360 km southwest of Tehran, this city is located in a green mountainous area in the vicinity of Alvand Mountains, about 1.850 m above sea level. According to Köppen Climate Classification, it has a mild, pleasant, and mostly sunny summer with continental climate and a snowy winter with cold semi-arid climate. In short, it is considered as one of the coldest cities in Iran.

This city has great tourist attractions. Below is some of its attractions.
Ali Sadr Cave
Ali Sadr Cave, formed millions of years ago, is one of the largest subterranean water complexes with boat trips in the world. Its body of water is not a flowing river, but rather a web-like lake fed by spring waters from nearby Sarab Cave. It has a network of channels, lakes, and watery passageways. The caverns are up to 40m high and the river 14m deep. Its temperature is constantly 16°C. The walls are covered by colorful, glittering geological structures. Based on paintings, pitchers, and jugs found there, the cave were inhabited by early humans starting 12,000 years ago.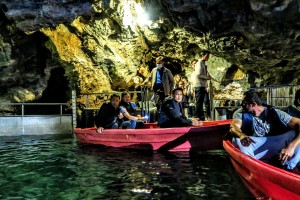 Ganjnameh
Ganjnameh, 8km from Hamadan's center, is cuneiform rock carvings containing two sections in three ancient languages of Old Persian, Neo-Babylonian, and Neo-Elamite. The left section was ordered by Darius the Great (521-485 BC), and the right one was ordered by Xerxes the Great (485-65 BC).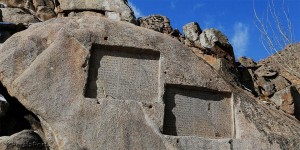 Bu Ali Sina Mausoleum
Bu Ali Sina or Avicenna was a Persian polymath regarded as a significant physician, astronomer, thinker and writers of the Islamic Golden Age. He is also known as the father of early modern medicine. His mausoleum is located in Hamedan, Iran. It includes a library, a small museum, and a spindle-shaped tower.

Alaviyan Dome
Alavian Dome once a mosque dates back to the Seljuk period. After years, this mosque was transformed into a family mausoleum. It was decorated exquisite carved stucco and brick panels. During Ilkhanid period, some exterior decoration in Kufic script were added to it.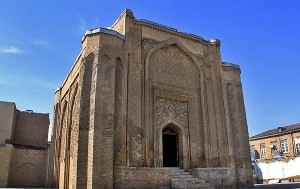 Asia's Tourism Capital
Due to Hamedan's historical sites, cultural and natural beauties, it has established as the capital of tourism in the ancient continent of Asia. It should be noted that the two upcoming international events, "Asia's Tourism Capital Conference" and "General Assembly of World Tourism Organization" in 2018 are good opportunities to introduce the province's attractions to foreign tourists and the world.
Sun World, as an Iranian Tour Operator, Welcomes Travelers to Enjoy Iran Nature Tours, Iran Eco-Tours, Iran Architecture Tours, Iran Historical Tours, Iran Sport tours, etc.
Travel to Iran by Iran Sun World, a Tour Agent.