The Most Gorgeous Ceilings in the World
According to BBC News, some of the world's most glorious sights can only be experienced if you crane your neck. Imam Mosque in Isfahan, Iran; Castello di Sammezzano in Florence Italy; Ely Cathedral in Cambridgeshire, England; San Pantalon in Dorsoduro, Venice, Italy; Hall of Prayer for Good Harvests, Temple of Heaven in Beijing, China; St. Stephen Walbrook in London, England; Solna Centrum Metro Station in Stockholm, Sweden Grand Central Station in New York, US; Haesley Nine Bridges Golf Club House in Yeoju-gun, South Korea; and Heydar Aliyev Centre in Baku, Azerbaijan are the 10 most gorgeous ceiling in the world.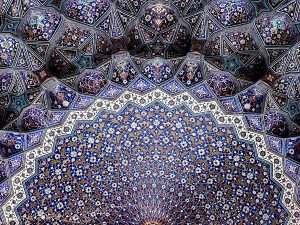 Shah Mosque, Isfahan, Iran
Shah Mosque, also known as Imam Mosque or Royal Mosque, is located in one of the most beautiful cities of Iran, Isfahan, which is considered as "Half of the World" due to its glorious attractions. It is one of the everlasting masterpieces of Islamic architecture of Persia registered by UNESCO World Heritage Site. Shah Mosque was built on the royal square in the 17th century by Shah Abbas of the Safavid Dynasty as his largest architectural monument. It angled to face Mecca. The colorful architecture of its dome devoted to beautiful colored mosaic tiles, and in general, Iranian art. It can attract all eyes and hearts by its unique design, its blue, yellow, turquoise, pink and green tiles catching and reflecting the light.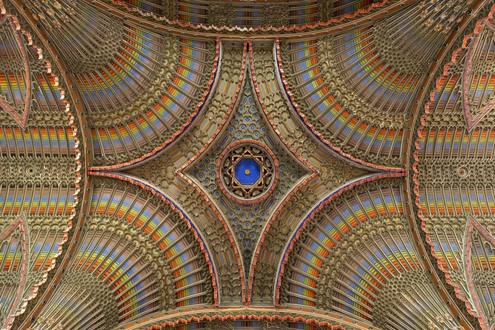 Castello di Sammezzano, Florence, Italy
Sammezzano, an Italian palazzo, is famous for its architectural style. It is located in Florence Province. This structure is the result of the  19th-century art thanks to the work of Ferdinando Panciatichi Ximenes d'Aragona in 1605, though its history is older; it traced back to the Roman Period. This castle, a prime example of Moorish art, composes of 365 rooms one for each day of the year.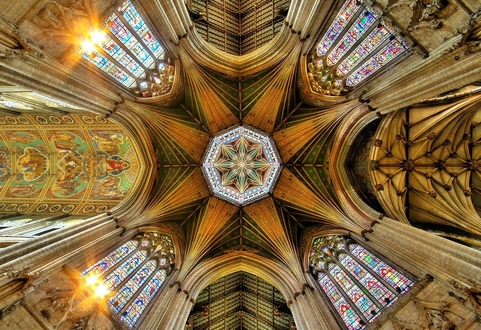 Ely Cathedral, Cambridgeshire, England
Ely Cathedral was completed in 1334 by the royal carpenter William Hurley. This structure first the church of Etheldreda and St. Peter, is one of the greatest feats of medieval structure design and engineering. The ceiling looks like a great eight-pointed star with a portrait of Christ at its center. Wooden panels, primarily from eight English oak trees, decorated with painted angels in the 19th century.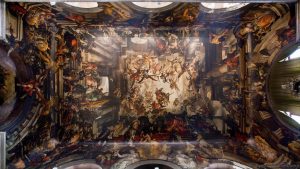 San Pantalon, Dorsoduro, Venice
This church is dedicated to St. Pantaleon. Some say it was founded in the 9th century but the record is dated 1101. Looking at the ceiling one can see the largest oil painting in the world (about 443 square feet) by Giovanni Antonio Fumiani done between 1680 and 1704. It depicts scenes from The Martyrdom and Glorification of St. Pantalon.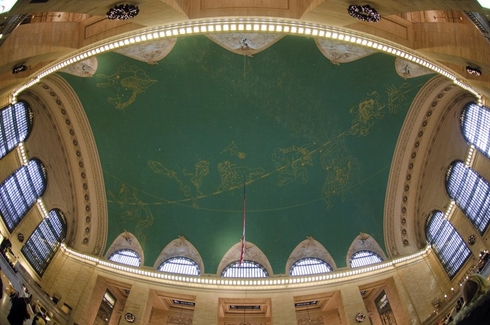 Grand Central Station, New York, US
Grand Central Station, a commuter, rapid transit, was named after one of the earlier railroad stations on the same site. Its main concourse has an elaborately decorated ceiling with astronomical paintings by Warren and Paul César Helleu. It was executed by James Monroe Hewlett and Charles Basing. This zodiac ceiling is based on medieval astronomical maps. The signs were outlined in gold leaf on a blue-green backdrop evoking autumn and winter night skies of Greece and Southern Italy.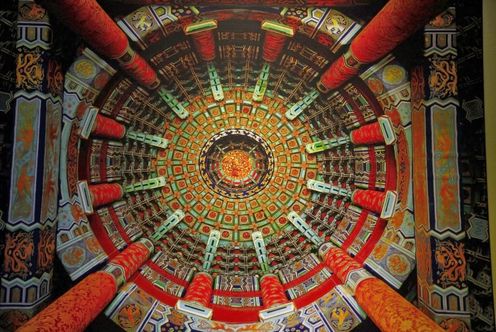 Hall of Prayer for Good Harvests, Temple of Heaven, Beijing
This place was built in 1420 by Emperor Yongle of the Ming Dynasty, just 4 years before he died. This circular wood frame construction covers about 5900 square meters. It was used as a hall to pray for the bounty of the year's harvest. This wooden structure was built without any nail. The interior has four inners, twelve middle and twelve outer pillars, representing the four seasons, twelve months and twelve traditional Chinese hours respectively. The ceiling is decorated by colorful paintings representing various evocations of good fortune, joy, and prosperity.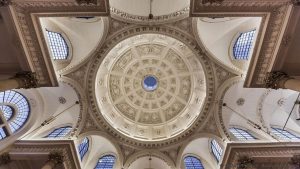 St. Stephen Walbrook, London, England
It is a church designed by Christopher Wren representing 17th-century architecture. Its magnificent 65 ft Roman dome is supported by eight arches. This dome, the first in Britain, is based on the design of St Paul's.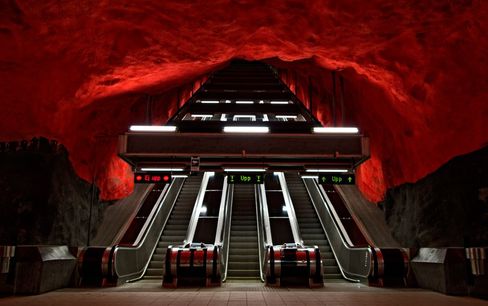 Solna Centrum Metro Station, Stockholm, Sweden
Solna Centrum, a metro station, and shopping mall, opened in 1975, is located in Stockholm, Sweden. This underground art, as the world's longest art exhibition, lies beneath the Swedish Capital decorated with paintings, installations, mosaics and sculptures from political upheaval to post-modernism by 150 artists since the 1950s.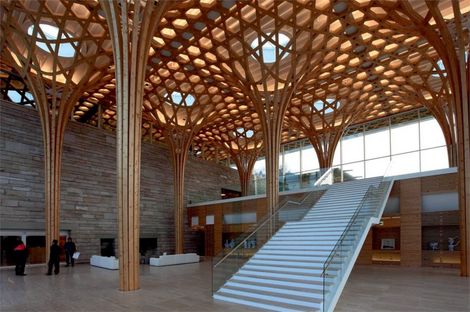 Haesley Nine Bridges Golf Club House, Yeoju-gun, South Korea
This sustainable timber structure composed of three buildings of the clubhouses servicing regular and VIP members and accommodation for them. Based on the Korean traditional summertime pillow, this ecological and natural ventilated club has a hexagon grid shell roof made of wood. It is designed by Shigeru Ban, a famous Japanese architect and was opened in 2010.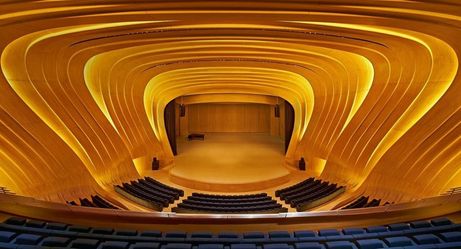 Heydar Aliyev Centre, Baku, Azerbaijan
Heydar Aliyev Centre, designed by one of the most famous architects in the world, Zaha Hadid, is the primary building for cultural programs in Baku showing Azeri culture and their optimism that looks to the future. Its curve walls and ceilings are really remarkable. The lighting was also considered carefully to express the continuous relationship between the exterior and interior of the building.
Sun World, as an Iranian Tour Operator, Welcomes Travelers to enjoy Iran Beautiful Sites.
Travel to Iran by Iran Sun World.