The Most Important Religious Places to Visit in Iran
Iran is a deeply religious country. Although the country's official name is the Islamic Republic of Iran, different people with different religions live together calmly and happily. It seems that Iranian people have a deeply ingrained trust and love for their set of religious beliefs. Christians, Zoroastrians, and Jewish are other religions in Iran. It can be said that the Iranian Jewish community is the second-largest in the Middle East just after Israel.
Each Iranian religious location is unique and remarkable. They illustrate Persian culture and lifestyle. Most of Iran historical religious places are tourist attractions. In this article, some of the most important religious tourist attraction of Iran are introduced.
The most important Islamic religious places in Iran is located in Mashhad, Khorasan Razavi Province in north-east Iran. Imam Reza's Shrine, the Shias' eight Imam, contains his mausoleum, Goharshad Mosque, museum, Razavi University, prayer halls, library, a cemetery, etc. The shrine was built around 818 AD by Abbasid Caliph Mamun. Each year a great number of tourists visit this shrine. It has been described as "The Heart of Shia Iran". It enjoys the Islamic architecture which is decorated by Iranian art.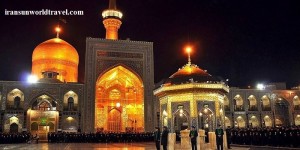 Fatima Masumeh's Shrine is located in the religious city of Iran, Qom, Qom Province, Iran. Fatima Masumeh is Imam Reza's sister. Fatima Masumeh was travelling to meet her brother at Mashhad in 816 AD. She became seriously ill en-route. She reached the town of Qom, where she eventually passed away. Her shrine was built by Shah Abbas I, at the beginning of the 17th century. It is the second most sacred place and one of the most significant Shia's shrines in Iran. The architecture of this shrine is also outstanding.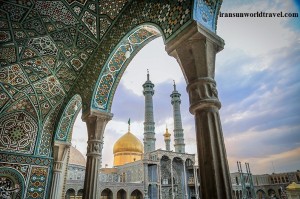 One of the primary mosques of Iran is Jamkaran located in Qom, Qom Province, Iran. It has been a sacred place since 373 A.H. when Sheikh Hassan ibn Muthlih met the twelfth Imam of Shiite, Mohammad al-Mahdi, Iman of the Ages. Imam told him to construct a monumental mosque in the place they met. It is a holy place in Iran.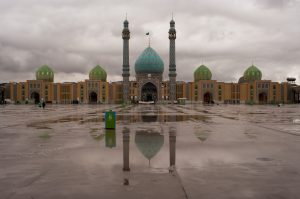 Imam Mosque
Imam Mosque, also known as Shah Mosque or Royal Mosque, is located in one of the most beautiful cities of Iran, Isfahan, which is considered as the Half the World due to its glorious attractions. It is one of the everlasting masterpieces of Islamic architecture of Persia registered by UNESCO World Heritage Site. Imam Mosque was built on the royal square in 17th century by Shah Abbas of Safavid Dynasty as his largest architectural monument. It angled to face Mecca. The colourful architecture of its dome devoted to beautiful coloured mosaic tiles, and in general, Iranian art. It can attract all eyes and hearts by its unique design, its blue, yellow, turquoise, pink and green tiles catching and reflecting the light.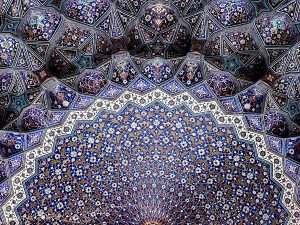 Nasir-al-Mulk Mosque
Nasir-al-Mulk Mosque also known as the Pink Mosque due to the usage of considerable pink colour tiles for its interior design is located in Shiraz, the cultural city of Iran. Nasir-al-Mulk was built during the Qajar era. This fantastic, mosque enjoying Iranian architecture, has some coloured glass in its façade. When sunlight shines through the colourful glasses, it makes this mosque outstandingly aesthetical among other mosques. You can see this beauty from the start of dawn till 10:00. Inside of the mosque is filled with light and colours.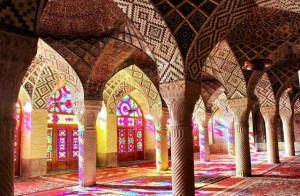 Vank Christian Cathedral
The Vank Christian Cathedral was one the first churches ever built in Isfahan, Half the World. This gorgeous cathedral is located in Jolfa district. This cathedral was established in 1606. During Ottoman War (1603-1618), hundreds of thousands of Armenian deported were resettled by Shah Abbas I. This unique cathedral was dedicated to them. Vank enjoys a rich painted interior, carvings in gold and marvellous tile work, and a fabulous mixture of architectural styles and contrasts which makes it an important tourist attraction in Isfahan. This cathedral also contains a library, which contains more than 700 handwritten books, and a museum represents the history of the Armenian community lived in Isfahan.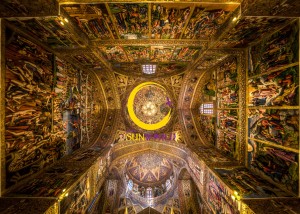 Zoroastrian Fire Temple
Zorastrian Fire Temple is located in Yazd, Yazd Province, Iran. This Fire Temple was constructed in 1934 by Jamshid Amanat. This religious place belongs to Zoroastrians since they worship fire in all of its forms. Inside this temple, there is an eternal flame it is said that this flame has never been extinguished. This flame began burning 1,500 years ago until it was finally placed here. To see this flame, the visitors must be clean. They should wear light-coloured clothes, white caps or scarves.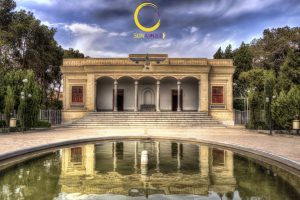 Iran Sun World, as an Iranian Tour Operator, can provide best services with least prices.