Iranian Nomads
Located from north to the south and east to the west of Iran, nomads have one of the oldest ways of living. They have tried to keep their lifestyles, cultures, and customs over the centuries. The Iranian nomads are of different ethnic groups (e.g. Turk, Turkmen, Baluch, Arab, etc.).
Lifestyle
The Iranian nomads or "Il" migrate from a place to another; passing river, mountains, roads, canyons, plains, cities, etc. while carrying all their belongings. Herding is their main economic life. Therefore, seasons to seasons, they migrate to seek pastures and water for their sheep and goats. Once they reach their favorite destinations, they set their black tents or "Siah Chador" up. They are woven of goat's hair.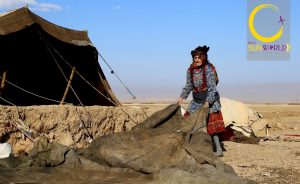 The Iranian nomads are friends with nature. They respect it since their life depends upon it. It should be mentioned, however, that their way of life is an admirable response to nature and ecology.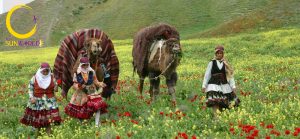 Nomads' Food
The Iranian nomads produce their dairy products such as milk, butter, yogurt, bread, and meat themselves. They even trade their products with the people living in villages and cities in return for commodities they need such as rice, clothes, etc.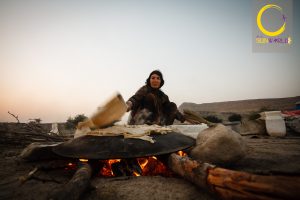 Nomadic Women
The women and girls of Iranian nomads spend their time to produce handicrafts, to weave rugs (e.g. kilims, jajims, etc.), blankets, storage bags (e.g. chanteh), bags, etc. They are experts in producing such handicrafts especially Persian tribal rugs which are the exhibition of their culture, their stories, and histories written down by them on the rugs. They try hard for living as well as men.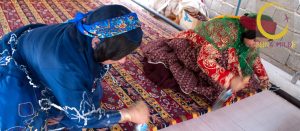 The Iranian nomad women's colorful dresses are a festival of colors. They wear multiple gathered skirts also lurex-decorated, long-sleeved tunics, a light shawl for covering their hair, a wrapped silk headband, and a short jacket for winter.
The men in Iranian nomads also wear wide trousers and collarless shirts. It should be noted that women's and men's clothes are different from tribe to tribe.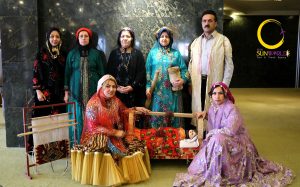 You can visit the Iranian nomads or live with them and understand how they live, what they eat, what is their customs, etc. with Iran Sun World Tour & Travel Agency. We provide for you the most affordable tours to visit Persian nomads. Feel free to contact us.
Sun World, as an Iranian Tour Operator, Welcomes Travelers to Enjoy Iran Natures, Iran Eco-Tours, Iran Architectures, Iran Historical Places, Iran Sports, etc.
Travel to Iran by Iran Sun World, a Tour Agent.