Oramanat, a Foggy Paradise in Western Iran
Oraman is a mountainous range which is located within two provinces of Kurdestan and Kermanshah in Western Iran. This fantastic region has many rivers and springs mostly flow into Sirwan River. With a total length of 15 meters, the river is the shortest river in the world. Enjoying pleasant weather, rich natural attractions, and beautiful landscapes, this region attracts a lot of travelers and tourists every year.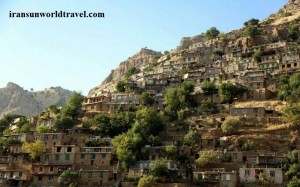 Around the region, researchers have discovered a big stone grave with a dome and a number of houses showing that humans lived in the area from the Iron Age, more than 3000,000 years ago.
Oramanat Village is one of this region's man-made attractions. This fantastic terraced village where the roofs of one house are the courtyard of another house, add to the beauty of the region. The houses are usually made of stone. Due to its architecture, this village is like Masuleh Village.
Locating 75 km south of Marivan city, Oramanat Village is rest in an east-west valley on a steep slope. Besides its panoramic views, Oramanat Village is one of the attractive rural areas in Iran.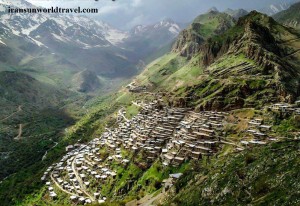 The Meaning of Oramanat
This village once was the center of the local rulers, therefore, it was called Oraman Takht (means throne). Oraman, or Horaman, in Kurdish language, means the land of Ahura and the seat of Ahura Mazda.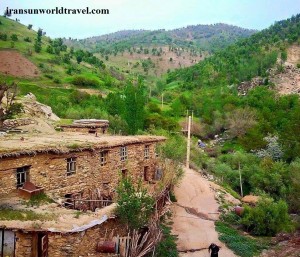 Oramanat Culture
The people living in Oramanat speak Kurdish, Urami dialect. Based on the ancient fire temples and also remnants, it can be said that the people living there were mostly Zoroastrians.
One of the most important local ceremonies held in Oramanat is regarding Peer Shahriar Urami. His tomb is a revered site there. He was an author who wrote the Acquaintance of Peer Shahriar. His commemoration is held twice a year in Oramanat Village. The first ceremony which is called "Koohsari" is in May. The second one called "Aroosi Peer Shahriar" is held in February. In Koohsari ceremony instruments such as Daf has been usually played and some speech on Peer Shahriar's personality has been delivered. Aroosi Peer Shahriar is celebrated for two weeks.
The people dress in Kurdish fashion. Kurdish clothing is a mixture of colors and roles. In the past, people usually made their dresses and footwear by local materials and fabrics woven by local weavers.
This fantastic village also manifests the Kurdish art and civilization. It enjoys a rich literature and its music.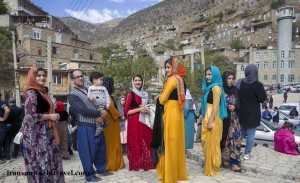 Oramanat Economy
Oramanat economy is based on agriculture and husbandry. Medical plants are also cultivated in Oramanat Village in a vast area.
Different handicrafts such as kilim, felt, giveh, and wooden baskets are also produced by inhabitants and presented as souvenirs to travelers.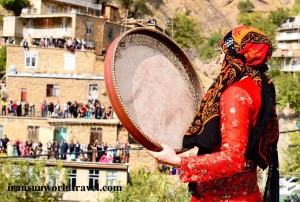 If you are interested in visiting Oramanat Village we recommend you to travel there in spring and summer. Because the climate of this region in spring and summer is very pleasant. However, it is very cold in winter.
Iran Sun World can provide you best tours around Iran.