Abr Jungle
Abr jungle (literally meaning cloud forest), a diamond in Semnan, Iran, is one of the oldest and most beautiful jungles in Iran with some rare plants and animals. Located about 45 km north of Shahrood city (between Shahrood and Azadshahr), this three million and 300 thousand years old jungle is the oldest living creature in the world. Abr jungle is the continuum of northern forests that are placed in the south of the Alborz mountain range. Indeed, Abr jungle encircles the Alborz like a belt.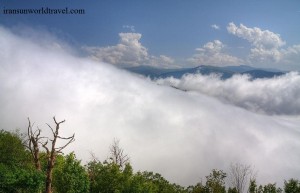 Abr jungle is part of the oldest and most beautiful Hyrcanian forests. Abr jungle has an area of 35,000 hectares which extends beyond the lush forests of northern Iran.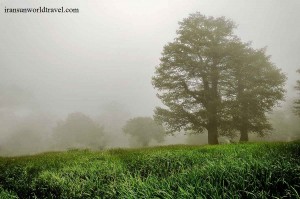 Since most seasons it is covered by an ocean of fog and clouds, it is called Abr jungle. In fact, Abr jungle is famous for its often-occasional ocean surroundings. When walking in the Abr jungle you can experience a sense of coolness and freshness associated with the proximity of the clouds to your face. The Abr jungle is full of steep hills. A river also runs in there.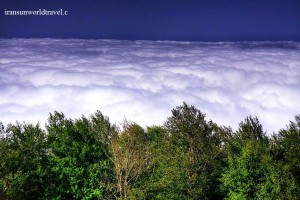 Creating clouds happens before sunset. The temperatures fall and the clouds rush into the forest. The clouds are so thick that it seems you are walking on them. In Abr jungle, the clouds are so thick and they are so close to the trees that it seems the forest rides on the clouds. You can walk on the clouds. According to many tourists, Abr jungle is one of the most beautiful landscapes of Iran. The Abr jungle can provide visitors with an opportunity to explore its wonderful ecosystems and enjoy its fantastic scenery. The best time to visit Abr jungle is from May to October.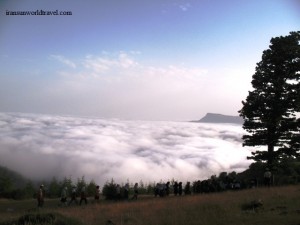 In the depths of Abr jungle, there are steep hills all covered with tall trees. The jungle is home to old woody plants. The most famous tree in Abr jungle is Junipers creating one of the highest tree-lines on earth. Generally speaking, there are 85 plant species that make Abr jungle a natural museum. Some of these species include kadar, alder, maple, oak, hornbeam, thyme, along with some rare species such as elm, wild service tree, English yew, etc. in fact, Abr jungle is one of the rich medicinal source in Iran inviting enthusiasts from around the world. Old trees in Abr jungle reach 4,000 years. Some of the most famous animals which are living in Abr jungle include brown bear, leopard, wolf, fox, jackal, wild boar, antelope, chamois, rabbit, forest eagle, vulture, falcon, quail, pigeon forest, dove, pheasant, etc.
Reach this jungle by Iran Sun World, an Iranian tour operator. We serve you with the best services.