Petroleum Museums of Iran
Two petrol stations of Iran were put in the Iran National Heritage listed as Iran petroleum museum. The monuments are considered as the first petrol museum of Iran. One of them is fourth fuel distribution station, called gas station number 234 (formerly number 4), built by Anglo Persian Oil Company between 1925-1941. This station which is the second oldest filling station of Iran is located in 15th Khordad St. in Tehran. Bright glazed tiles and boasts covered the building. It enjoys Islamic architecture including geometric patterns and arches.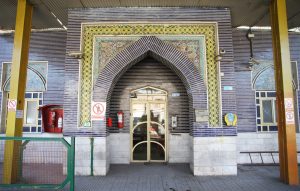 The other one, located in Abadan, Khuzestan province, was built in 1927. This building covers by stone. It has strong Art Deco influence, a style of visual arts, architecture and design first appeared in Paris, France in 1925, just before World War I. Variety of documents and objects such as pumps, scales, jerry cans, some tools, etc. are held there.
These two buildings are among the few stations which survived. Unfortunately, most of them having particular architecture have been destroyed or their usage were changed.
Sun World, as an Iranian Tour Operator, Welcomes Travelers to enjoy Iran Historical Buildings.