Reqez Canyon
Introduction
Reqez Canyon is among the most beautiful attractions of Fars province, Iran. It is located 30 km from Hassan Abad, Darab County. You can feel the excitement of eco-tours in Reqez Canyon. Reqez means a pristine and slippery path which is completely fit this region out. This canyon enjoys high waterfalls and clear springs where you can clearly feel the excitement of rafting and water sports.
Reqez Canyon is surrounded by high mountains. There are about 64 waterfalls with different heights in Reqez Canyon. They vary from 65 meters to about 5 meters. However, only 14 of them are publicly usable. Reqez ponds also have different depths. The deepest pond is 20-meter-deep. The shallowest pond is 6-meter-deep.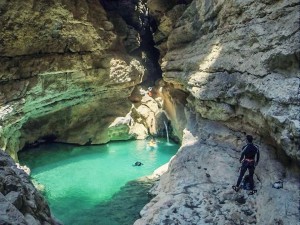 Climatic Condition
The air temperature also varies among all these waterfalls and pools of Reqez Canyon. For example, it is extremely cold in Negin waterfall; in some others, the sun shines directly; it is, therefore, hot. It is important to prepare the necessary equipment according to the weather conditions. The most suitable time to travel to Reqez Canyon is from mid-May to October to experience the coolness of this place.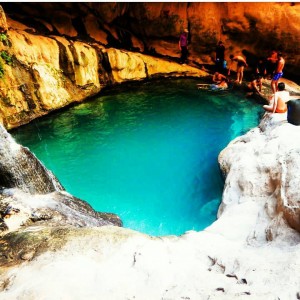 Reqez's Waterfalls
To create fantastic landscapes in Reqez, the water reaches the foothills after passing a distance of 5 kilometers.
Reqez Canyons consists of
Negin Waterfall (16 m high)

Masoud Waterfall (8 m high)

Bom Rang Waterfall (7 m high)

Golab Waterfall (11 m high)

Hekmat Waterfall (11m high)

Fath Waterfall (8 m high)

Kabotar Waterfall (25 m high)

Damaqe Waterfall (12 m high)

Jam Waterfall (9 m high)

Azarakhsh Waterfall (65 m high)

Veda Waterfall (46 m high)

Yadegar Waterfall (4 m high)

How Access to Reqez Canyon
In order to reach Reqez Canyon, you have to go to Darab County, Fars province. Then, drive 35 km from the main road to get Derakoyeh Mountain Pass. The dirt road starts from here. After two hours, it will end. You should take a hike for the rest of the journey. Walk on the right side of the road to reach a fountain called "Yadak". Continue without slope. However, the slop will gradually increase. Bypassing the big stones, you will finally reach the Reqez Canyon on a steep path.
What You Need to Know When Travelling Reqez
It is better to have some equipment when decide to reach Reqez Canyon. Bivouac, waterproof sleeping bag, personal flotation device, sandals, extra cloths, shit, etc. are among the most necessary equipment. Individuals need to be able to swim and climb.
Reach Reqez Canyon by Iran Sun World, an Iranian tour operator. We serve you with the best services.