Kerman, the Gem of Desert
Kerman is located in Kerman Province. It is the largest city and also the capital of this province. Kerman became the capital city of Iranian dynasties several times during its history. With a population of about 821.374 (based on the 2011 Census), it is the 10th most populous city of Iran. The city is surrounded by mountains. It enjoys a desert climate. It should be noted that, however, the southern part of the city has a moderate climate. The following list contains the attractions you can visit in this city.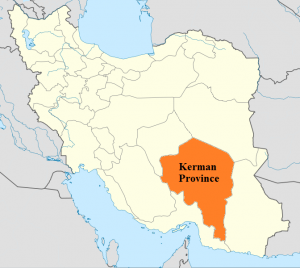 Shahzdeh Mahan Garden (Prince's Garden) is located in the southeast of Kerman. With an area of 5.5 hectares, it is one of the best and most unique gardens that can be found in the desert. It takes advantage of a suitable natural climate. It contains a beautiful garden, pools, fountains, main buildings, and a mansion. The king's mansion is located next to the main building. Currently, it is used as a restaurant. This garden is well-known for the tomb of the great Sufi leader Shah Nemat Ollah-e-Vali, as well as Shahzdeh Garden. In the lower part, it consists of an entrance structure and a gate. In the upper part, it consists of a two-floor residential structure.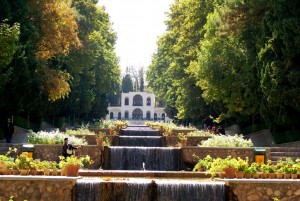 Ganjali Khan Complex is composed of a mosque, a bazaar, a school, a bathhouse, a square, a caravanserai, a mint, and an ab Anbar. This complex was built by Ganjali Khan he ruler of Kerman, Sistan, and Kandahar in the Safavid era.
The square, ninety-nine meters by fifty-four meters, was a place for gathering and ceremonies. This square is surrounded by bazaar, caravanserai, and school. On the southern side of the square, you can see the bazaar and the bathhouse. Bazaar, 93 meters long, was decorated with 400 years old paintings that are well-preserved. This bazaar is connected to the square through 16 iwans and vaults. The bathhouse was built in 1631. It contains disrobing, cold and hot rooms. In 1971, it converted to an anthropological museum. On the east side of the square, there is a caravanserai built in 1598. The caravanserai, thirty-one and a half by twenty-three meters, follow a four-iwan typology with double-story halls and a courtyard. Ganjali Khan Mosque reflects a collection of Safavid art. There are about 12 lighters in the center of its dome and 8 ones in other parts completely providing the light inside. The mint finished in 1625. It has a tall dome. It was converted to a numismatics museum in 1970 to display coins from different periods.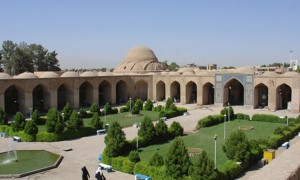 Ghale Ganj Capari Hotel is located in Ghale Ganj in southern Kerman Province. The material used constructing the rooms of this unique hotel is from palm timber. The unique facilities and services the hotel offers to travelers and tourists have made it one of the most beautiful and interesting attractions. Among these amenities serving a variety of traditional cuisine, tours with off-road cars, local games such as Ramaza, camel riding, music, and dance, etc.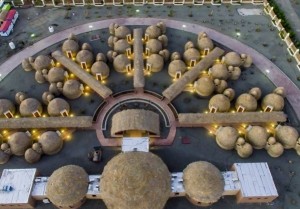 Moayedi Icebox is considered to be the world's largest icebox dating back to the late Safavid era. It contains a pool, ice pit, fence, and reservoir. It was constructed by clay to protect the interior from heat.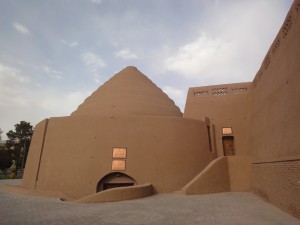 Arg-e Bam (Bam Citadel) which lies about 1.060 meters above sea level, is situated near Kerman, in a desert environment. It dates back to the Achaemenid era (6th to 4th centuries BC) and even beyond. (Read More)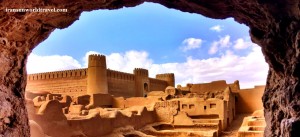 Rayen Castle, with an area of more than 22.000 m2, is considered to be the second-largest adobe structure of the world after Arg-e Bam. This citadel was inhabited until 150 years ago. It is similar to Arg-e Bam. It is also a sample for the vernacular architecture of desert climatic conditions. Despite numerous natural disasters that have destroyed similar structures nearby, it is well preserved. It dates back to the Sassanid era. It was a center for trading goods (from textiles to sword, knife, guns, etc.) since it was on a trade route. Due to a waterfall near it, it also enjoyed different gardens. During the war between Arabs and Sassanid King, this city was not conquered regarding its high walls.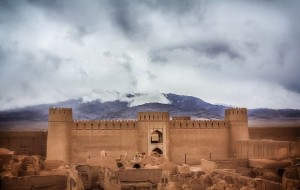 Shahdad Desert is 100 Kilometers from Kerman. It is also 30 Kilometers from Dasht-e Lut or Lut Desert. Based on reports by NASA, Shahdad Desert is the warmest parts of the earth. Shahdad contains sandy mountains generated by extreme soil, water, and wind. It is a tourist attraction due to its Nabkha, a kind of sand dune, with a height of 10 meters. There is little vegetation in the desert region.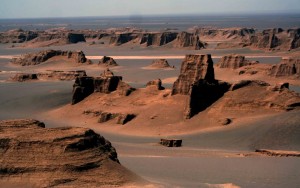 Travel to Beautiful Iran, by Iran Sun World, an Iranian tour operator, to visit the best places. We offer you the best tours with the best prices.