Iran Zoorkhaneh
In Iranian culture, Zoorkhaneh, the house of strength, is a sacred place in which physical strength is done through moral purity. This ancient sport has its own music, exercises, and equipment. It can be traced back to the Parthian Empire of Iran (132 BC – 226 AD).
Zoorkhaneh's entrance door is short, so when people enter they must bow their heads; this is the sign of respect. The athlete or Bastanikar exercises in a round shape hole called Gowd.
In this traditional Persian gymnasiums, Morshed, as the main person, chants sacred poetry and plays drums and bells to convey a rhythm or movement change while the athletes are exercising on the Gowd. These exercises includes shena (push up), mil gereftan (club exercise), mil bazy (juggling), charkhidan (rotating), pa zadan (foot work), kabbadeh keshidan (exercise by iron bow), sang gereftan (stone press), koshti (wrestling), warm down and moshtemal (massage).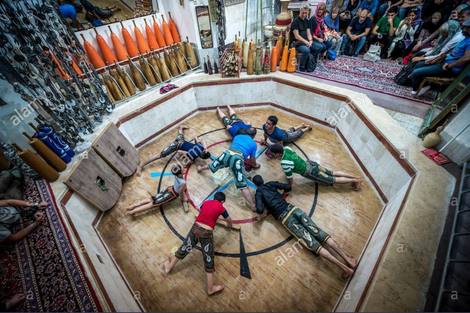 Sun World, as an Iranian Tour Operator, Welcomes Travelers to Enjoy Iran Natures, Iran Eco-Tours, Iran Architectures, Iran Historical Places, Iran Sports, etc.
Travel to Iran by Iran Sun World, an Iranian Tour Agent.