Mausoleum of Omar Khayyam
Omar Khayyam (1048-1131) was a Persian poet, astronomer, and mathematician born in Nishapur, Khorasan Province, Iran. Nishapur, a major center of Zoroastrians, was a leading metropolis in Khorasan during medieval times. It could reach its climax of prosperity under the Seljuq Dynasty in the eleventh century.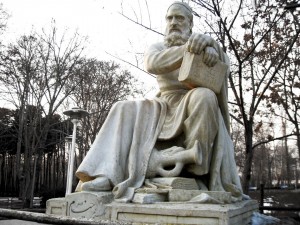 He was born into a family of "tent-makers" which means "Khayyam' in Persian. His name, therefore, is under this notion.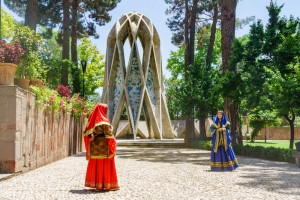 Khayyam was a great mathematician. He is notable for his work on the classification and solution of cubic equations and understanding of the parallel axiom. As an astronomer, he designed the Jalali calendar (a solar calendar with a very precise 33-year intercalation cycle). He was also one of the most famous Persian poets who spent most of his life with Karakhanid and Seljuq rulers in the First Crusade era.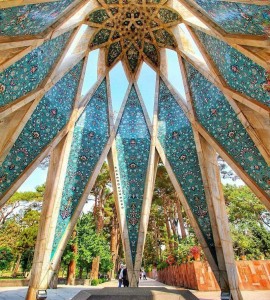 There is a tradition of attributing "Rubaiyat" or "Quatrains" to Khayyam. His notable work, i.e. Rubaiyat, became widely known to the English world in a translation by Edward FitzGerald. In 1073, he became an adviser of Sultan Malik-Shah at the age of twenty-six. In 1076, he was invited to Isfahan where he spent productive years. There he could take advantage of the libraries and learning centers. He had the opportunity to study the work of Greek mathematicians, Euclid and Apollonius, in Isfahan.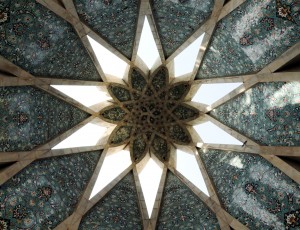 After the death of Malik-Shah, the ruler of Isfahan, he went on a pilgrimage to Mecca. Then he was invited to Marv to work as an astrologer. After returning to Nishapur, he has lived the life of a recluse.
He died on December 4, 1131, and was buried in Khayyam Garden. He liked to rest in a place where flowers in the springtime would shed their petals over his dust. The earliest account of Omar's final resting place is provided by one of his pupil, Nizami Aruzi, visiting his tomb in 1135. His grave became a part of the mosque and shrine of Imamzadeh Mohammad Mahruk (Imam Reza's Brother) in the succeeding centuries. This mosque had a turquoise dome erected in the seventeenth century. During the reconstruction of his mausoleum, it was separated from the mosque. One of Iran's famous architect, Hooshang Seyhoun, designed his mausoleum; A white marble monument was erected over it. It was completed in 1963.
Today, this mausoleum is a place that attracts a lot of travelers each year. If you are interested to visit this fantastic construction, travel by Sun World, an Iranian Travel Agency.