Sistan and Baluchestan Province, a Secretive Region
Traveling to Iran is always interesting. This country consists of different parts each has its beautiful landscapes and sites. Iran travel agencies and Iran tour operators recently pay attention to one of the provinces, Sistan and Baluchestan, known as the land of stone and color.
In the first half of 2017, about 350,000 foreign travelers visited Sistan and Baluchestan. In this article, this province is discussed briefly.
Geographical Information
Sistan and Baluchestan is one of the Iranian Province Located in the southeast of the country, bordering by Pakistan and Afghanistan. It has a 1,000 km coastline at the gates of the Persian Gulf. With an area of 181,785 m2, Sistan and Baluchestan is the second largest province of Iran. Its capital is Zahedan. This province comprises two sections of Sistan, in north, and Baluchestan, in the south, and contains some counties as Zabol, Zahedan, Chabahar, Hirman, Iranshahr, Saravan, Soran, Dalgan, Khash, Nishahr, Sarbaz, and Zehak.
based on the 2016 Census, the population of Sistan and Baluchestan is approximately 2,775,014. This province is considered as one of the driest regions of Iran. It is also subject to seasonal winds such as Levar, Qousse, Gav-kosh, Nambi, Hooshak, Gurich and Gard.
Culture
In addition to different and abundant historical attractions, the culture, customs, and traditions of people in different events are also sources of charm.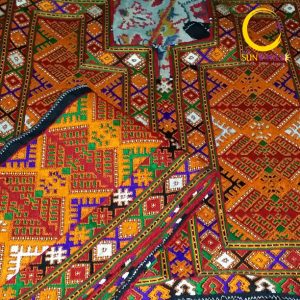 Art
Among this province handicrafts, needlework is really famous. Needlework is one out of nine Iranian artworks registered on UNESCO's World Heritage.
Language
Sistan and Baluchestan is called Baluchestan since most of the population are of Baluch race speaking Baluchi language. Persians (speaking a dialect of Dari Persian), Kurds, Brahui, and some ethnic groups as Gypsies also inhabit in minority.
Religion
The people of Baluchestan are mostly Sunni while the people of Sistan are mostly Shia.
Historical Attractions
Two UNESCO World Heritage sites are located in Sistan and Baluchestan. Shahr-e-Soukhteh (Burnt City) and a part of Lut Desert. For more information on these two archaeological sites visit the related articles.
50 km away from Saravan, Sib or Seb defensive fortress is one of the attractions built in Safavid and was expanded by the next dynasties. It was a castle for Nader Shah Afshar spending most of his time there.  It is considered as the most beautiful adobe castles in Iran.
Mount Khajeh, 30 km away from Zabol, is also famous. It includes a fire temple, a palace, a graveyard, and a mausoleum.
Qasr-e-Qand, a township located to the south of the province, dating back to 2500 BC. It is registered on the National Heritage List.
Natural Attractions
In the north of Sistan and Baluchestan, you can visit Hamoun Wetland. It was home to about 225 species of birds. However, as a result of years of drought, it becomes a graveyard for birds; and the ecosystem was destroyed.
Another natural attraction in Sistan and Baluchestan is a mountainous area and Taftan peak within a distance of 50 km. southeast of Khash city. It embraces the Taftan. Its famous volcanic summit is known as Chehel Tan. 
Chabahar, a free port of Sistan and Baluchestan near the coast of the Gulf of Oman, is also famous for diverse attractions among them some are prominent. This port is a real tourist attraction. The mangrove forest is the home to valuable birds such as flamingo, eagle, etc. Mars or Martian Mounts are extremely beautiful. It is the symbol of a unique Geo-morphological phenomenon. It is really worth visiting. Its beaches are also the most fantastic coastal areas of Iran. Its water sports and activities like swimming, diving, surfing, water skiing, snorkeling, etc. can attract many travelers each year. Lipar Lagoon, 15 km away from Chabahar, home to birds such as stroke, partridge, peacock, etc. is also a beautiful place to visit.
Autumn and winter are the best seasons to travel to Sistan and Baluchestan because of its spring-like weather.
Travel to Iran to visit beautiful Sistan and Baluchestan and its tourist attractions, by one of the most famous Iranian tour operators, Iran Sun World Tour & Travel Agency.