Isfahan, Half the World
Isfahan, a city of 17th century Safavid, is called "Nisfe Jahan" or "Half the World" because of its splendid and unmatched beauty against the rest of the world. Isfahan was the capital of Persia in the 16th and 17th centuries. This city contains fantastic gardens, historical places, mosque, etc. In short, Isfahan is a Heavenly Paradise.
If you travel to Iran, you certainly would not miss this beautiful city. Among its attractions some are prominent.
Imam Square
Imam Square, Shah Square or Naqsh-e Jahan is one of the most important historical sites of Isfahan constructed between 1598 and 1629. It is also registered in the UNESCO's World Heritage Sites. It is 160 m wide and 560 m long. This square is surrounded by Imam Mosque (its ceilings is among the most gorgeous ceilings in the world) on the south; Ali Qapu Palace on the west; Sheikh Lotf Allah Mosque on the east; and Qaisarieh Gate on the north.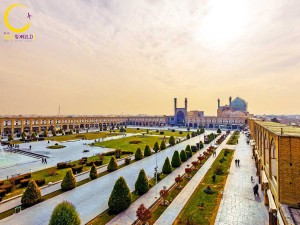 Imam Mosque
Imam mosque which is also called Shah mosque or Royal mosque were constructed in 1020 A. H. by Shah Abbas I during the twenty-fourth year of his reign. The decoration and extension of this mosque were completed after him by his successors. It is considered as the masterpiece of the 16th century. Its tile work, stone carving and architecture is outstanding. One of the most interesting characteristics of this architecture is the echo of sounds in the center of the dome with a 52 m height.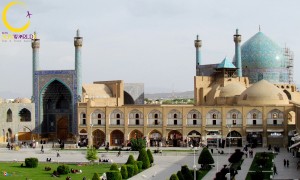 Sheikh Lotf Allah Mosque
This masterpiece was built during Safavid Empire. It was started to be constructed in 1603 during Shah Abbas I reign.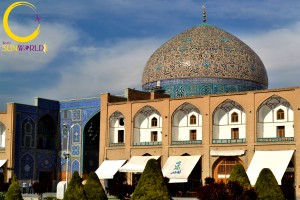 Ali Qapu
This palace was constructed under the order of Shah Abbas I in the early 11th century A.H. It is forty-eight meters high and five floors each has its own decorations.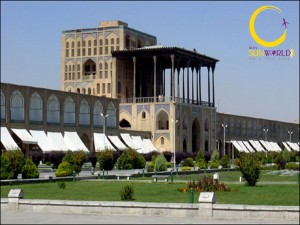 Qaisarieh Bazaar
This bazaar was one of the largest and most luxurious shopping malls in the old Isfahan. Today, it is a great supplier of handicrafts. It was constructed in 1029 A.H in Safavid era. The entrance to this bazaar is through a majestic gateway. This gate was decorated with paintings and mosaic tile works representing two archers with lion torso and dragon's tail.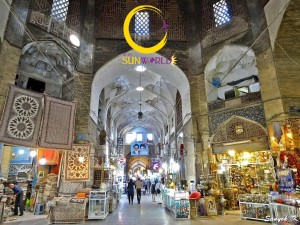 Chehel Sutun Palace
The Chehel Sutun or Forty Columns Palace is another sight in Isfahan. Along with its garden, it covers an area of 67,000 sqm. It was also constructed during Shah Abbas I reign. It is called Chehel Sutun because the reflection of the twenty pillars of the hall in the pool opposite the palace which brings about a conception of forty pillars.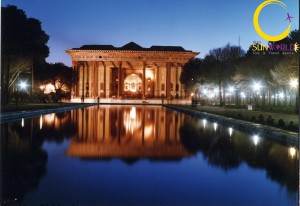 Hasht Behesht Palace
This palace was built in 1080 A.H. during the rule of Safavids. The edifice was the residential palaces of the last kings of the Safavid dynasty. Tile work of the building represents different kinds of birds, wild animals and reptiles. A park has been built around it after the Iran Revolution.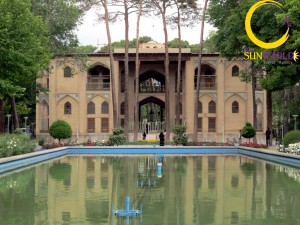 Si-o-se Pol
It is a unique bridge built during the reign of Shah Abbas I. It is approximately 300 m. in length and 14 m. in width and is the longest bridge on the Zayandeh Rud River. It was constructed in 1005 A.H. Julfa Armenians held "Khaj-Shouyan" ceremony around this bridge.

Khaju Bridge
This bridge was constructed in 1060 AH, under the orders of Shah Abbas II. However, the foundation took in the late Timurid period. In its centre there is a structure known as the Beglarbegi construction.

Vank Cathedral
This Church is located in Jolfa vicinity. The construction started in the reign of Shah Abbas II in 1065 A.H and was completed in 1074 A.H. The interior of the church is richly decorated with painting decorations, interesting tile works and beautiful oil paintings of Jesus Christ's life.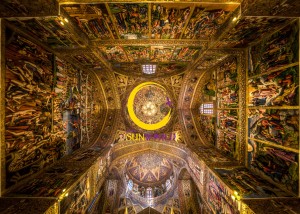 Manar Jonban
Manar Jonban or the swinging minaret comprises of a mausoleum and two minarets. Its architecture is based on Mongol architecture. All tile works remind you of that era. It was constructed on the tomb of "Amoo Abdollah" a reputed personality of the 8th century A.H.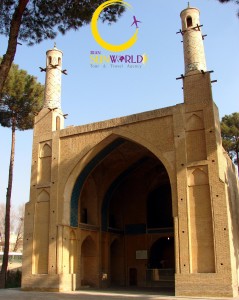 There are a lot of interesting place to visit in Isfahan both historical and natural landscapes.
Sun World, as an Iranian Tour Operator, Welcomes Travelers to Enjoy Iran Natures, Iran Eco-Tours, Iran Architectures, Iran Historical Places, Iran Sports, etc.
Travel to Iran by Iran Sun World, a Tour Agent.