Tabriz, Center of Tourism along the Silk Road
Tabriz is the center of West Azerbaijan Province located in the Northwest of Iran. Bounded by stark, eroded hills, Tabriz is situated on a high plateau between Lake Urmia and lofty Mt Sahand. It is the home to a large ethic group namely Turks.
Tabriz enjoys some important and magnificent places such as the following:
Bazaar
This 7 km2 bazaar constructed over a millennium ago, is listed in UNESCO. It has 24 caravansarais and 22 impressive domed halls. It contains different parts as carpet, gold and jewellery, silver and copper, hat, herbal remedies shops, household goods, fruit and vegetable, etc.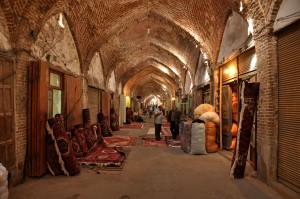 Blue Mosque
This construction with a blue interior was built in 1465 for Jahan Shah. It has intricate turquoise mosaics which was badly damaged in an earthquake in 1773. Only the main iwan (entrance hall) and Jahan Shah's tomb remained. It took a further 25 years to cover and decorated every surface with the blue majolica tiles.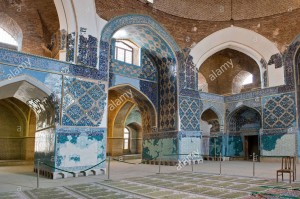 Azarbaijan Museum
This building has a brick portal in entrance and big wooden doors with two stone rams. It exhibits treasures from Hasanlu, an Iron Age town, a superb 3000-year-old copper helmet, a curious stone 'handbags' from the 3rd millennium BC, some sculptures, the famous 'Ardebil' carpet (one of the best ever made), etc.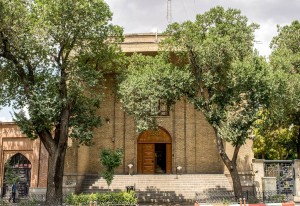 Arg
Arg-e Tabriz is a chunky remnant of early 14th century citadel of this city. It was also used for the punishment of criminals. They were hurled from the top of the citadel walls. during Russian 1911 invasion, it also used as a command post.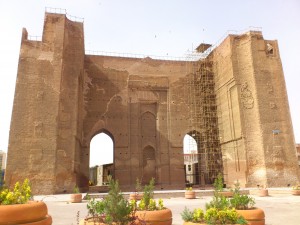 Poet's Mausoleum
Poet's mausoleum or Maqbaratoshoara is more than a cemetery. In fact, it can be considered as a literary complex. Some 400 poets, mystics and luminaries of Iran and the region (such as Anvari Abivardi, Zahireddin Faryabi, Falaki Shirvani, Shams al-Din Sajasi, Mojiroddin Balaghani, Homam Tabrizi, Khaghani, Qatran Tabrizi, Mani Shirazi, Lesani Shirazi, Shakibi Tabrizi, Maghrebi Tabrizi and Shapour Neyshapouri) have been laid to rest there; Shahriar (the famous Persian and Azerbaijani poet) is the last one. Its 30 m height mausoleum is located in the middle of the complex. It is a must-see tourist attraction of Tabriz. The design of the mausoleum (with both traditional and modern architecture) was selected in a competition held in 1970. It started to be constructed in 1972 and was completed in 1982.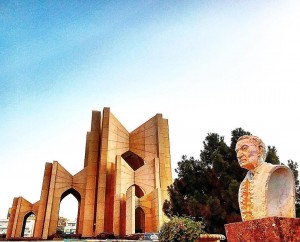 El-Goli
El-Goli also known as Shah Goli is a large park in Tabriz. It has a building with a traditional architecture of Iranian Azerbaijan, in the middle and an artificial lake around it which is surrounded by side walk.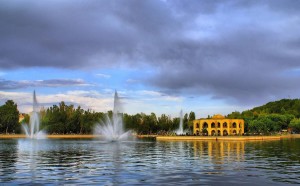 The Tourism Capital of Islamic Countries in 2018
Tourism as a powerful industry contribute to the development and prosperity of the countries. Tabriz is selected as "the Tourism Capital of Islamic Countries in 2018" by Organization of Islamic Cooperation (OIC).
Center of Tourism along the Silk Road
Tabriz as a channel connecting Europe and East Asia and a country which is located along the Silk Road is considered as the center of tourism and cultural heritage studies by Japan International Cooperation Agency (JICA). Among the cities of Ahwaz, Shiraz, Isfahan, Yazd and Tabriz, Tabriz had the opportunity to be selected as a tourism and cultural heritage studies center.
It is hoped that these events can pave the way for attracting further tourists to the region.
Sun World, as an Iranian Tour Operator, Welcomes Travelers to Enjoy Iran Natures, Iran Eco-Tours, Iran Architectures, Iran Historical Places, Iran Sports, etc.