Electronic Tourist Information through

Trip

Advisor
There are a lot of destinations and attractions throughout the world one can visit and enjoy. A visitor wanting to trip oversea may like to get good information about the desired destinations before traveling. But, how s/he can learn about different topics including favorite and most visited sites, affordable accommodation, transportation and fee, the best way to reach the places, etc.?
In spite of asking travel agencies, one of the best ways is web diving. There are a lot of sites that can be used nationally or internationally. One of the best and most active ones is TripAdvisor.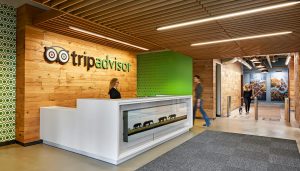 What is TripAdvisor?
This website was originally designed as a B2B tool. However, once the travel community started to use it, the site quickly evolved with the aim of meeting the users' needs. Today, TripAdvisor is the world's largest travel website company headquartered in the US. It was founded in 2000 by Stephen Kaufer, et al. TripAdvisor provides some information to help travelers plan and book their favorite trips around the world. It can help them decide where to stay, how to book, where to eat, what to eat, how to go, what to do, etc.
This community gives travelers the opportunity to compare prices and amenities of more than 200 booking sites for hotels and vacation rentals. TripAdvisor also helps travelers to find their perfect restaurants and reserve the tables online. Discovering great things to do is also another part of this community. Furthermore, TripAdvisor helps people to find the best flights for the right prices from hundreds of sites.
What does TripAdvisor's logo mean?
The logo is an owl with a red and a green eye, wearing glasses. The owl represents wisdom and knowledge. Its glasses refer to searching and looking for a destination. In this logo, one of the owl's eye is green and the other one is red. These two colors symbolize the way travelers chose. Where to go is shown in green and where not to go is shown in red.

How to Use TripAdvisor?
This free to use website let people share their experiences. Once you register in TripAdvisor, you can ask for other experiences in the travel forum. For example, you can ask for the best and the cheapest way to go to a given place; you can ask for the best hotels; you can ask the culture and customs of target people; etc. you can also share your experiences and answer to others wanting to travel to your country or the countries you visit before. Moreover, you can write a review of places you know and those you went to. You can add the pictures of tourist attractions, introduce them to others, and encourage them to experience those.
Know Better. Book Better. Go Better.
Follow Iran sun World on TripAdvisor: iransunworldtravel