Yazd, the Capital of Wind Catchers
The city of Yazd, the capital of Yazd province, is known as the City of Wind Catchers or wind towers. It is located in the heart of the desert. This city, with a population of 1,138,533 (based on 2017 Census), is recognized as a World Heritage Site by UNESCO since 2017. Its name is derived from Yazdgerd I, a Sassanid ruler. It is also considered as the center of Zoroastrians, although the majority of people are Muslims.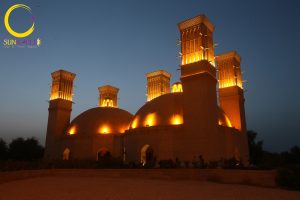 In 1272, the city was visited by Marco Polo. He described Yazd in his book as a good and notable city having a great amount of trade. He also expressed the silk tissue (i.e. Yasdi) woven there, as a rich commodity which merchants carry into many quarters to dispose of.
Yazd has a lot to visit. Among the tourist attractions, the following can be mentioned:
Dowlat Abad Garden
This garden was built in the Zand era in 1747 (1160 AH) by Great Khan. To irrigate the garden, he dug an underground aqueduct. It is a Persian architecture jewel, annually attracts thousands of visitors. It has a tall wind catcher one can see from hundreds of meters away.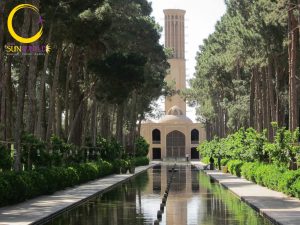 Amir Chakhmaq Complex
At the center of the historical district of Yazd, one can visit a beautiful complex built in the Timurid era. A big square is in the north of the Friday Mosque. Amir Chakhmaq was built in the 15th century. This prominent structure has symmetrical sunken alcoves. It has a mosque, a caravanserai, a bathhouse, a tekyeh. This complex is a square of the same name. It was called after Amir Jalaleddin Chakhmaq, a governor during Timurid Dynasty (15th–16th century CE).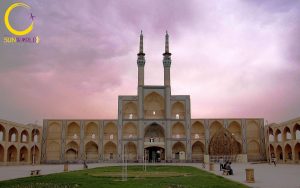 Friday Mosque
This mosque belongs to the Muzaffarid and the Timurid eras. Its construction dates back to 728 AH (12th century). It took about 100 years to complete. Its beautiful dome room, platforms, iwans, chambers and prayer niches, a grand one decorated with elegant mosaic tiles, are worth visiting. It also has a pair of minarets which are the highest in Iran.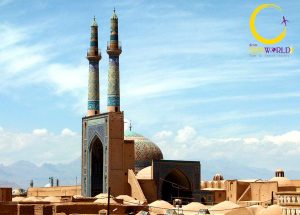 Zoroastrian Fire Temple
The building is known as Bahram or Vahram was erected in the reign of Pahlavi I in 1934. It is the only temple housing Atash Bahram in Iran involving the gathering of different types of fire gathered from 16 different sources.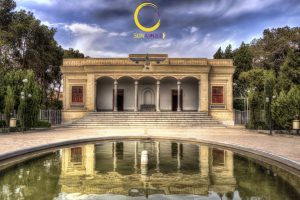 Seyyed Rukneddin's Mausoleum
It is a small part of Seyyed Rukneddin's Seminary built in the 8th century AH. Although the Seminary is destroyed, the Mausoleum has survived. It has a dome room, a courtyard, and an iwan.
Water Museum
Water Museum or Kolahdooz's House can show you the hidden world of waterways through photos and instruments such as tools for measuring the volume of water, the lighting equipment in the aqueduct, storage containers, etc.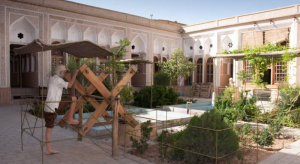 Coin Museum of Yazd
Located in Fahadan district, Arabzadeh's house is an old building. Today, t is used as a coin museum. This unique treasury and collection, containing five thousand coins, has been gathered during 50 years by Master Hussein Heidarzadeh, from the Achaemenid to the present periods.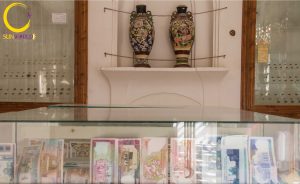 The Tower of Silence
The Crypts or Tower of Silence, are the name of Zoroastrians' burial places near Yazd. as documents showed, the towers were first used in the early 9th century. The Zoroastrians put the dead body on the mountain to be exposed to carrion birds to avoid the dead body contact with earth or fire, the sacred elements.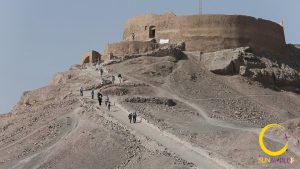 Lari's House
Lari's House and its windcatcher is related to the Qajar era. This house is one of the most beautiful houses of the 13th century in terms of its doors, windows, sash window, mirror working and paintings.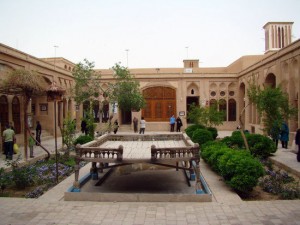 Yazd Sabats
Sabats or shades are sunshades built over alleys which is the characteristic of desert architecture. This kind of architecture causes more air movement and make the temperature less hot to make walking tolerable. Sabats are among the beauties of Yazd. In the summer, you can use it as a shelter against warm weather. You can see the Sabats when you are walking through the city.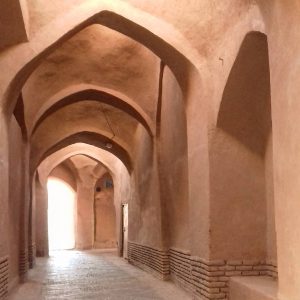 Ab Anbar with Six Wind Catchers
It is a traditional water reservoir or cistern. The only Ab Anbar with six windcatchers is located in Yazd. In the beginning, it had just three wind catchers, and after years three other were added to it.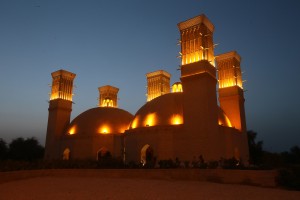 Alexander's Prison
Alexander's Prison or Ziayeh School is a domed school built in the 15th century. It is also known as Alexander's prison. It was a school around 700 years ago. The dome was entirely built of clay decorated with golden and azure paintings. A number of people who had been exiled by Alexander went there, and that is the reason why it is called Alexander's prison.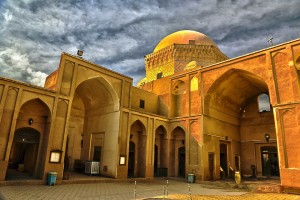 Mesgarha (copper) Bazaar
Mesgarha (copper) Bazaar is a traditional bazaar where you can buy a variety of copper and metal artifacts.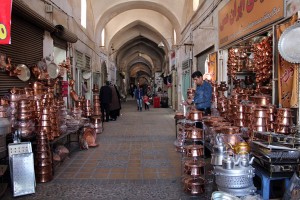 The Tomb of Twelve Imams
It is a dome in Fahadan Neighborhood built in 429 AH. This monument, dating to the Seljuk era, is one of the oldest monuments in Yazd. It is worthy of value due to its style and design.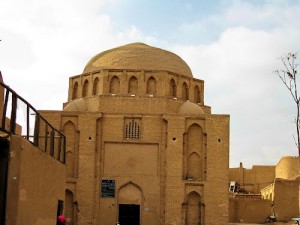 Khavidak Castle
This castle was completely built based on desert vernacular architecture. The current construction dates back to Al-Muzaffar era (8th century AH). This residential and defensive castle is very wide as if it was a great village. It has an area of 2252 m2.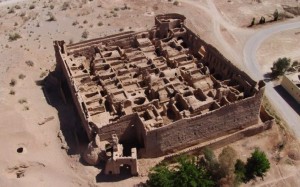 Chak Chak Shrine
Chak Chak Shrine is one of the most sacred places for Zoroastrians that is of high value. There are some special days of the year in which they worship and pray there.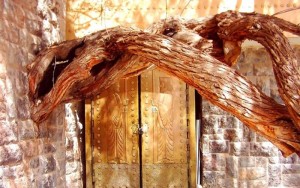 Yazd Handicrafts
This beautiful city has various handicrafts. Potteries, ceramics, cashmere weaving, lkat weaving, engraving, Zilo, silk cloth, velvet weaving, bed sheet weaving, etc. are among the Yazd famous handicrafts.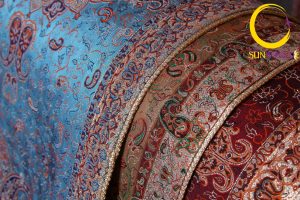 Visit Yazd and its beautiful sites with Iran Sun World Tour & Travel Agency.
Sun World, as an Iranian Tour Operator, Welcomes Travelers to Enjoy Iran Natures, Iran Eco-Tours, Iran Architectures, Iran Historical Places, Iran Sports, etc.
Travel to Iran by Iran Sun World, a Tour Agent