Lahijan Green Roof
Where is Lahijan Green Roof?
"Bam Sabz" or "Green Roof" is one of the most popular tourist attractions in Lahijan, Guilan province, Iran. Lahijan Green Roof is located in the upper part of Sheitan Kouh (literally means Satan Mount). The Green Roof reaches the southern part of the mountain by a passage.
This area is called the Green Roof of Lahijan due to its view of some important attractions such as Lahijan Sheitan Kouh, lake, tea fields, etc. According to the rules, it is forbidden to set up a tent in Lahijan Green Roof.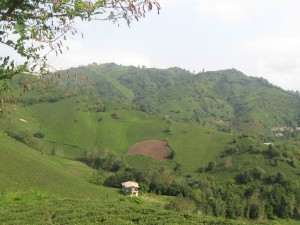 Lahijan Sheitan Kouh
Satan is a mountain in the east of Lahijan, which was also called Shah Neshin Kouh (literally means Kingdom Mount). Since some dreadful sounds sometimes came from the mountain at midnight, this mountain was called Satan Mount. There are also a waterfall and a lake in this area which makes Green Roof the main Lahijan tourist attraction.
Lahijan Green Roof Climatic Condition
Due to its moderate temperature, clean weather, beautiful views of Lahijan, and the green nature of northern Iran, the city authorities have considered special facilities for travelers' comfort in the area. The most suitable time to travel to Lahijan Green Roof is from late April to mid-May to early November.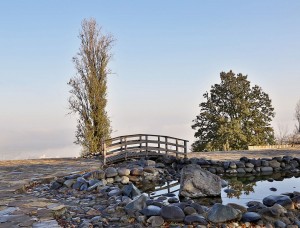 Lahijan Recreation
The first thing to see when entering Lahijan is its Amusement Park. This Park has high-security and high-quality entertainment facilities located adjacent to various local and international cafes and restaurants.
Ahrar Tele-cabin connects Lahijan Green Roof to the Lahijan Tajkhoros (literally means Cock's comb) mountaintop. This tele-cabin was been constructed in 2005. Lahijan tele-cabin has a length of 1500 meters. It takes 10 to 20 minutes to reach its top. Along the way up the tele-cabin, you can see Lahijan tea fields on the right and a very beautiful view of Sheitan Kouh and the city of Lahijan on the left. Travelers can take fantastic photos of Lahijan Green Roof and Sheitan Kouh. At the last station, there are a number of gazebos or pavilions where the travelers can rest and enjoy the beautiful nature of Lahijan.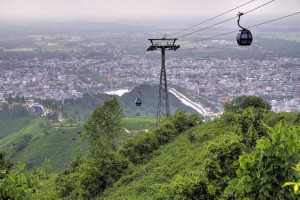 There is also a large lake with an area of 17 hectares and a depth of about 4 meters in the eastern part of Lahijan. It was a water tank for irrigation of rice fields fed by mountain water in the past. In the middle of this lake, there is a beautiful island called Mianposhteh. It connects to the south part of the lake by a cement bridge with a length of 15 meters. The lake is constructed by Shah Abbas, the Safavid King. On the island part, he built a great palace for his residence. Alongside Lahijan Lake, there is a very nice walkway for walking and cycling. It is surrounded by commercial and amusement centers. This lake is one of the most visited attractions in Lahijan.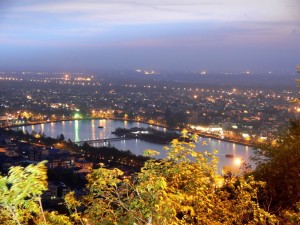 Lahijan Green Roof Attractions
– Sheitan Kouh
– Green Roof Tele-Cabin
– Tea Museum
– Lahijan Lake
– Sheikh Zahed Gilani's Shrine
– Mirshahid Shrine
Lahijan Green Roof Restaurants
– Qasr Restaurant
– Mahtab Restaurant
– Ziba Restaurant
Travel by Sun World, an Iranian Tour Operator to visit Lahijan Green Roof.