Ferdowsi, the Preserver of Persian Language
Persian classic poetry, and Persian literature in general, is one of the irreplaceable part of Iranian heritage, owing its survival to Ferdowsi, the greatest Persian poet.
Ferdowsi is the author of "Shahnameh", the Iranian national epic which is also considered as the world's longest epic poem. That is why he is called the most influential figure in Persian literature.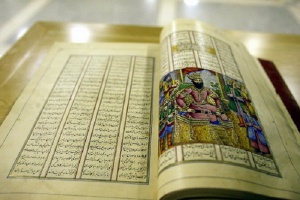 About Ferdowsi
"Abul Qasim Ferdowsi Tusi" known as "Ferdowsi" (also spelled Firdowsi, Ferdousi, Firdawsi, Firdusi, Firdousi) was born (940- 1020 AD) in "Tus", a small ancient city in "Razavi Khorasan Province" in the north east part of Iran which is also famous as "Susia" in ancient Greeks.
Ferdowsi belonged to a landowner family of aristocrat class in Samanids era who had a comfortable income from their estates and was found of their traditions and customs and tried hard to protect them.
His kunya is "Hakim" literary means "philosopher". Although nothing is known with any certainty about his name and even the real facts of his life, some believe Sultan Mahmud, Gaznavid king, called him "Ferdowsi" meaning "man of paradise".
After the Islamic conquest in the 7th century, some parts of Iranian culture and linguistic changed. In the 9th century, however, under the rule of Samanids, Persian language was supported and a brilliant era for fostering Persian language, literature and thought was prepared when Ferdowsi saw its task to preserve Iranian traditional culture and language and created the masterpiece of Shahnameh, "Book of Kings" around 977.
After his death, his body was buried in his own garden in Tus. A Ghaznavid governor ordered to construct a mausoleum over his grave. However, it was rebuilt between 1928 and 1934 by National Heritage Society of Iran as a revered site. Some scenes from Shahnameh were carved into reliefs at his mausoleum.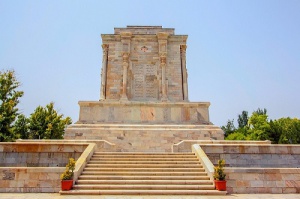 Each year, the 25th day of Ordibehest (May 15) is celebrated as "National Ferdowsi Day" to mark his birth anniversary and his great work. It is also called "The Persian Language Day" to respect Ferdowsi's effort in protecting and preserving Persian language and literature.
Shahnameh
Shahname, the great work of Ferdowsi, is of high importance in Persian literature. It has had a great impact on Persian speakers and writers all over the world. Shahnameh, is the result of 30 years of Ferdowsi's effort. It was finally completed in 1010. Ferdowsi presented it to Sultan Mahmud, Gaznavid king, who rule over Tus by that time.
Shahnameh is a combination of legend and ancient history of Persian kings and brave warriors. That is why it is an epic.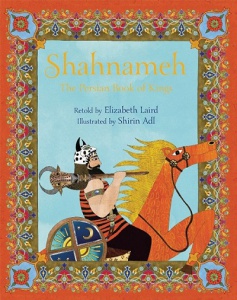 Ferdowsi, as a renowned poet, and his masterwork, Shahnameh, have a special place in Iranian life. His verses and the stories of Haft Khan (Seven Labors) have been read especially in places such as traditional tea houses through the centuries. It has been an integral part of Persian customs. The people gather together in the tea houses and a person called "Morshed" (meaning Master) recited the epics for people using some portrayed of Haft Khan on the walls.
A Brief Overview of Shanhanmeh
Shahnameh providing a poetic view of Iranian history. The epic begins with the creation of the world and ends with the Islamic Conquest of Persia. The content includes three successive parts: the mythical, the heroic, and the historical ages.
The "mythical age", which is a short part, contains 2,100 verses (4% of the book). It begins with the praise of God and creation of the world and man. This part devotes to Keyumars, the first king. His grandson, discovered fire and that was the time when Sadeh Feast was established. The rest of this part related to the story of Kaveh, Fereydon, Zahhak, Jamshid, and Tahmuras.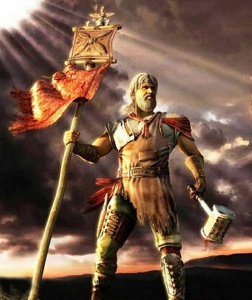 The "heroic age" contains two-thirds of the book. In this fantastic part the story of Rostam and his Seven Khan was narrated. Indeed, this part is devoted to the age of heroes. This part of the book can be considered as the most famous part following Manuchehr's reign to the conquest of Alexander the Great.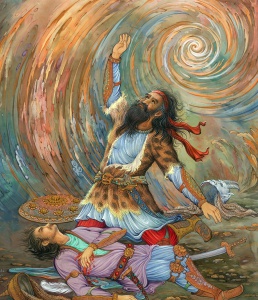 The "historical age" mentions the history of Alexander and Ardeshir, the founder of Sassanid Empire. The end devoted to the Arab conquest of Persia.
Although the book is an epic one, the romance parts of the stories are also prominent, astonishing and absorbing. The reader certainly enjoys the romantic story of Bizhan and Manizhe, Katayon and Goshtasb, Zal and Rodabe, Rostam and Tahmineh which subtly expressed in an epic work.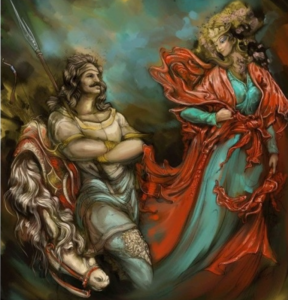 If you are interested in visiting Ferdowsi tomb and know more about his great work, Shahnameh, travel to Tus, his city. Iran Sun World as an Iranian tour operator can provide you all kinds of services.
Contact us and just enjoy your Iran tour.