Gour Ancient City
In the early 3rd century, an ancient city called Gour was constructed under the orders of Ardashir Babacan. This city is also known as Ardashir Khore or Firouzabad.
Gour is considered as the first experience of a city with a circular plan in Iran. It has a diameter of about two kilometers. Gour also has four main gates. In the center of this circular city, there was a minaret which was called Tarbal.
There was a dome building called Takhtneshin near this minaret. These two structures seem to be the only existing structures in the city of Gour in their construction mortar and stone were used instead of clay. The remaining minaret structure shows that it is in the form of a square with 9 meters long and over 30 meters high. There are circular stairs and walls around this minaret.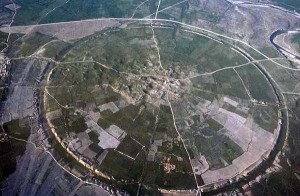 A number of prehistoric historians have linked the history of Gour to the Achaemenid era. According to them, the city of Gour had a very strong and solid castle, as Alexander the Great was not able to open its fence. That is why, on his orders, a river was diverted to the city; and unfortunately it was drowned in the water.
After that, Ardeshir Babakan, upon his reign, ordered to destroy the mountains around the plain to dry up the water and built a new town. He, then, selected the new city as his own place.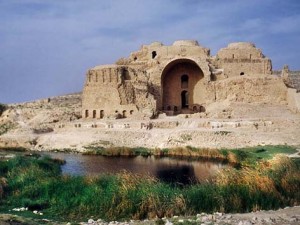 In the early Islamic era, the kings of Al Boyah, who chose the city of Shiraz as their own monarchy place, decided to rebuild Gour. Therefore, a mosque and a hospital were built in the city. The city of Gour was built in a defensive way. Its defensive fortifications even exceeded the city.
The city of Gour was gradually inhabited in the seventh or eighth century AH. This city is now abandoned and is considered a tourist attraction. The city of Gour was registered in Iran National Heritage List in 1937. Travelers wanting to visit this place can reach the city three kilometers from Firouzabad.
If you are interested to visit this ancient city, follow Iran Sun World, an Iranian Travel Agency for our great suggestions and tours.