Iran Travel Guide
Qeshm Island, a Diamond in the Persian Gulf
Qeshm is a beautiful island located in the Strait of Hormuz. With an area of 1500 km2, Qeshm is the biggest island of the Persian Gulf. Its history dates back to the pre-Islamic era. The remains of Zoroastrian temples and Elamites relics represent the long history of this marvelous island.
Qeshm has a strategic role in the Persian Gulf; therefore, it has attracted a lot of attention during different eras. As written in historical books, Qeshm Island has had a lot of commercial prosperity before and after Islam when the commercial ships traveled to China, India and African countries through this island. Qeshm has also been able to maintain its privileged position now.
Qeshm Tourist attractions
Qeshm Island has a lot of unique tourist attractions, especially natural ones. The sea and the beaches around Qeshm are very diverse, causing various habitats around this island. It is home to different species of fauna and flora and animals.
The coral reefs around Qeshm are very attractive to divers. The types of big rare turtles can be found around this marvelous island. Qeshm beaches are the most suitable place to watch sea turtles.
Stars Valley
In the west of the village of Khalaf, and 5 km from the southern coast of Qeshm Island, there is a valley called Stars Valley. It is one of the few natural masterpieces on beautiful Qeshm Island. Stars Valley dates back to about 2 million years ago. It has been created due to the erosion of soil, rock, and sand due to wind, rain, and storms. The local people believed that this valley is created by a fallen star and that is why it is called Stars Valley. The special features of this valley was a reason to be as a part of Qeshm Geo-Park and registered in UNESCO. It is the only Geo-park in the Middle East.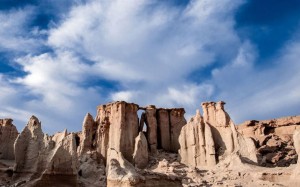 Chahkooh Canyon
Chahkooh is a canyon with a depth of 100 meters, displaying the erosion of sedimentary rocks. The access to the domes and salt caves located in the southern Qeshm Island is very difficult. The salt layers are related to new geological periods. They have risen in collisions with earth crusts and created beautiful salt domes and salt caves. One of the Qeshm's caves with 6000 meters in length, is the largest salt cave in the world. Within this cave, there is a spiral river with a depth of one meter.
Chahkooh Canyon has great fantastic rocks formed naturally over time. It is considered as a holy canyon. It was a place for storing water.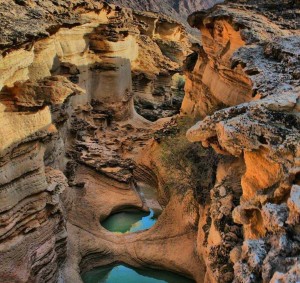 Hara Forset
Hara Forest or Mangrove Forest of Qeshm is famous as "green gold". This forest is more than 30 million-year-olds. It is home to trees that have roots in water. This forest is a unique natural attraction. This floating forest, surrounding the port village of Laft, has an area of 7500 hectares. The mangrove trees with 3 to 8 meters tall cover most part of it.
This vast forest is also home to green turtles, crabs, creeping fishes, and also different kinds of birds such as flamingos, pelicans and eagles.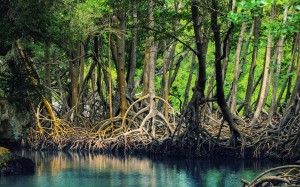 Guran Dam and Village
On the northern coast of Qeshm Island about 80 km from it, there is a historical dam, each of its parts related to a historical period. The foundation dates back to the Achaemenid era (2500 years ego). The Sasanians  (1700 years ego) constructed the structures. However, it was finally completed in the Pahlavi era. It is a place where most boats, fishing lounges, and passenger ships are built.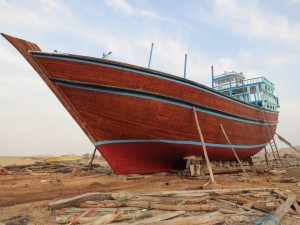 Tandis Valley
Tandis (literally means sculptures) is a valley which is famous for its big sculptures. The valley is like the Stars Valley; however, it is bigger and its sculptures can amaze you. When standing in this valley you cannot imagine that in this dry plain, covered with mud, once there was a sea and many fish lived there. The shells that cover the valley's floor, however, depict the image of that watery sea. The valley is filled with a variety of interesting and amazing shapes; they seem to be created by a skilled artist while all of them are formed through wind and rain power.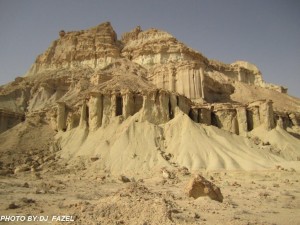 Naaz Island
Naaz Island, with an area of 3 hectares, is one of the most beautiful Islands of Qeshm. This island is 22 km away from Qeshm. This is the place where you can see colorful shells and jellyfish. If you are interested in diving, there are some exclusive sites to do it on Naaz Island. The island is surrounded by rocky walls five to ten meters in height. Visiting flamingos and the seagulls is also interesting for travelers. Naaz Island is considered as part of Qeshm Geo-Park. It is said that Naaz was a place for fishermen to rest.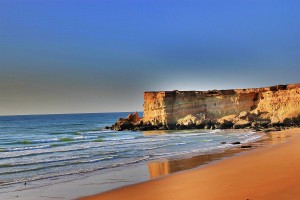 Hengam Island
Hengam Island is located in the south-central part of Qeshm Island, the island is located in the south-central part of Qeshm Island, at a distance of 2 km from the Qeshm. This island has an area of 50 square kilometers and is full of mines of salt, soil, and lead. The primary economic activity on this island is fishing. It also enjoys some tourist attractions. The main sites are Portuguese Shipwrecks, Aquatic animals, and English harbor building with its coal storage. It is also surrounded by soft-coral reefs that are attractive for diving.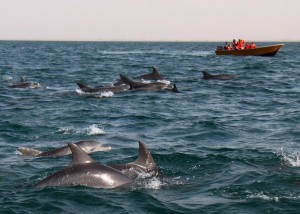 Qeshm is a free zone. Therefore, it has great potential to become a major industrial economic hub.
Due to the existence of huge natural resources such as oil and different kinds of mines and also located in a strategic point, Qeshm Island has a perfectly exceptional position to become a successful and leading industrialist hub in the Middle East, and Central Asia.
This island has more than 100,000 inhabitants that live in five large and small cities (Qeshm, Dorogan, Drum, Ramchah, Lahti, and Ramkan) and 60 villages. The main activities of its people are concentrated on areas such as fishing, launch making, planting palm, and trading. Qeshm Island has an average temperature of 26°C with warm water during most parts of the year and sunny hot beaches in the summers.
If you are interested in visiting this beautiful island and other important cities of Iran, we offer you the following tours with the best quality and the best services:
Diamonds of Persia Tour (19 Days)
Persian Landscapes Tour (16 Days)
Cooking around Iran (13 Days)
Iran Wildlife Watching Tour (11 Days)

Or you can visit Qeshm island, with these Budget Tours:
The Beauty of Qeshm Island (8 Days)
Iran Pure Nature Tour (9 Days)

Iran Sun World, as an Iranian Travel Agency, Provides you all kinds of services. We offer you the best tours in Iran.