Hafeziyeh, Tomb of Iranian Great Poet
Hafez, a Persian poet, mystic and sonneteer, born in the 8th century in Shiraz, Iran. Hafez, as one of the greatest poets of Iran, is locally known by his pen name, "Lesan-ol-Qeib". His real name is Shamseddin Mohammad. He is famous as Hafez since he had memorized the Holy Quran.
Hafeziyeh with an area of approximately 2 hectares is the shrine of Hafez located in the north of Shiraz. The hall's architectural design belongs to the Zandiyeh era and contains 20 stone pillars with 5-m height. The shrine also consists of 8 stone pillars; the number symbolizes the eight doors of paradise. It is also recommended that it is the symbol of the 8th century, in which Hafez lived.
Hafez is the most renowned poets in Iran whose influence can be felt even today. Hafez is also known to the west and east. He would leave a mark on some Western writers as Goethe. This Persian lyric poet expressed love, spirituality, and protest in his ghazals. Moreover, many of his poems are used as proverbs or sayings. Hafez's Divan (his book containing his poems) is found in almost every Iranian home.
After his father died, Hafez started working at the bakery. One day he saw Shakh-e Nabat, a very beautiful woman. Since then many of his poems are addressed her. Hafez composed about 500 ghazals, 42 Rubaiyees, and a few Ghaseedeh. It is worth mentioning that Hafez himself did not compile his poetry. Mohammad Golandaam completed it some 21-22 years after his death.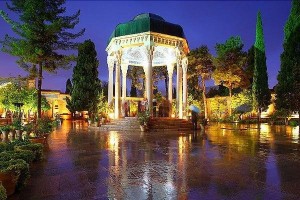 Hafez's Divan is so complicated and multilayered in meaning that the translation is sometimes a challenging task and the sprit may be lost. In fact, the translator should have a great mind, heart, and soul as well as word knowledge to understand Hafez's ghazals correctly to transfer.
Iranian people believed that when they have a problem or a question, they close their eyes and open up Hafez's Divan to one of his poems and then study it to get their answer.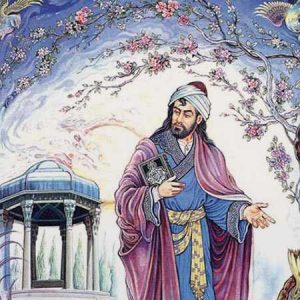 Below is one of Hafez's poem.
At the break of dawn from sorrows, I was saved
In the dark night of the Soul, drank the elixir I craved.
Ecstatic, my soul was radiant, bright,
Sanctified cup of my life, drunk I behaved.
O, what exalted sunrise, what glorious night
That holy night, to the New Life was enslaved.
From now on, in the mirror, O what a sight
The mirror, glory of my soul, proclaimed and raved.
Wonder not if I am bathed in heart's delight
I deserved and was given, though may have seemed depraved.
Angelic voice brought news of my God-given right
My patience is the fruit of hardships that I braved.
Sweet nectar drips from my lips, as my words take their flight
Beloved, my sweetheart, upon my soul patiently had engraved.
'T was Hafiz, divinely inspired that I attained such height
It was God's mercy that time's sorrows for me waived.
Sun World, as an Iranian Tour Operator, Welcomes Travelers to Enjoy Iran Natures, Iran Eco-Tours, Iran Architectures, Iran Historical Places, Iran Sports, etc.
Travel to Iran by Iran Sun World, an Iranian Tour Agent.