Heyran Mountain Pass
Heyran is a beautiful village located 30 km from Astara County, Gilan Province, Iran. Heyran is a cluster of three villages: Heyran-e Sofla, Heyran-e Vosta, and Heyran-e Olya.
The green fantastic Heyran Mountain Pass, with a length of 35 kilometers, displays a unique landscape of nature that is unique in Iran. This pass often covered with fog, with the valleys and foothills covered with rich meadow where the cattle are grazing, and the fantastic view of beehives are the first scenes that make people amazed.
Heyran Mountain Pass Attractions
Beautiful nature covered with fog
The first scenes you can see when entering Heyran Pass are the pastures, the cottages, the cattle grazing, and the horses running. In addition, the fog covers the entire forest due to the moisture of the Caspian Sea.
Hirkan National Park (Iran-Azerbaijan Border)
Hirkan National Park was established in an area between Lankaran, Azerbaijan and Astara, Iran in 2004. It has an area of 29,760 hectares. It was enlarged in 2008 from 29,760 hectares to 40,358 hectares. This park is 99% covered by forests in a primarily mountainous region protecting humid subtropical and humid temperate forests and sheltering endemic plants and animal species.
Amazing villages
Heyran is one of the most important tourist villages in the middle of charming nature. It contains three villages of Heyran-e Sofla, Heyran-e Vosta, and Heyran-e Olya.
Mishend village is located in Heyran Rural District, Astara County, Gilan Province, Iran. It is 18 km from Astara to Ardabil road. Mishend welcomes you with its beautiful scenery. The word "Mish" in the local accent (i.e. Taleshi) means "bee". In fact, Mishend means "the place of the bee".
Another beautiful village in Heyran Rural District, Gilan Province, is the Kashfi village which enjoys natural beauty just like a paradise. The village of Kashfi is on the hiking path.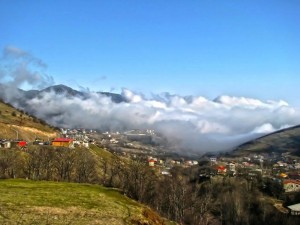 Heyran Pass Entertainment
There is a tourist village which enjoys the following facilities:
Heyran Tele-Cabin
To enjoy and watch the area, you can reach the Heyran Tele-Cabin, which has been operating since 2011. This Tele-Cabin which is also called Heyran Gondola lift is almost 1,700 meters long and has 30 ordinary cabins each has six seats. There are also three special VIP cabins. In this tele-cabin which is famous among the tourists, you can enjoy the views of the east part of the Caspian Sea, southwest to the Fandog Loo Forests, and north of Azerbaijan border).
Karting Track
Another exciting recreation in Heyran Rural District which is enjoyable for every traveler is a 1 km unlimited high-speed journey by kart racings through lush and foggy forests. It can be an indescribable pleasure.
Heyran Mountain Coaster
The highest and the longest mountain coaster of northern Iran is located in Heyran tourist village. Heyran Mountain Coaster is 1,500 meters long.
Heyran Souvenir
Organic dairy, honey, crops such as hazelnut and corn, and crafts such as woolen textiles can be mentioned as the souvenirs of this area.
Camping, Climbing, and Photographing
Travelers can set up their camping around the Heyran Mountain Pass and neighboring villages. They can take memorable photos of the amazing nature of this area. Furthermore, the area is the host of mountaineers aiming at reaching the summit.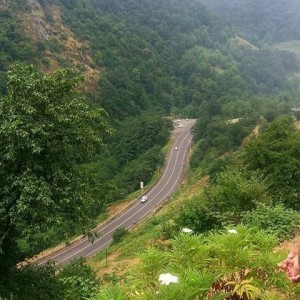 Staying in the Heyran Area
If you are planning to stay in Heyran area, you can accommodate in the hotels, guest houses and eco-lodges, or make a different accommodation by setting up a camp.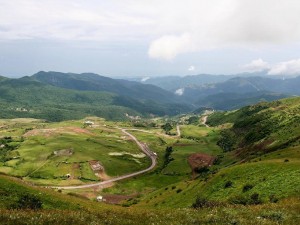 Best Times to Travel to Heyran Pass
Because of the mountainous nature of the road and the area, it is better to reach there in spring and summer to see the beautiful sights.
Spring and summer: the cool and pleasant weather of these seasons can provide the most enjoyable stay for travelers.
Fall: the forest is covered with thousand colorful leaves of the trees which make beautiful scenery.
Winter: the snow of winter is also eye-catching; however, due to frost and cold weather you should go on with complete equipment.
Travel to Iran by Iran Sun World to visit this fantastic pass.