Iran Tourism FAQs
When one decides to travel, some questions may arise in his/her head. Some of the common questions asked about Iran are addressed as follows:
Where is Iran located?
Located in the Middle East, Asia, Iran is the second-largest country in the Middle East and the 17th largest in the world. It is bordered to the north by the Caspian Sea; to the south by the Persian Gulf and the Gulf of Oman; to the east by Afghanistan and Pakistan; to the west by Turkey and Iraq; to the northwest by Armenia and Azerbaijan; and to the northeast by Turkmenistan.

Is it safe to Travel to Iran?
As a country of four seasons, you can see many travelers and tourists everywhere in Iran during all months. The tourists who travel to Iran will definitely recognize Iran as a safe country. If you are worried about the safety of traveling to Iran, you can ask a local Iranian travel agency to provide you a tour. Iranian Travel agencies can provide secure tours with suitable services such as tour guides, drivers, private vehicles, all transportation, accommodations, etc.
Do I need a visa to travel to Iran?
The process of getting Iran Visa for those who like traveling to Iran both individually or in a group is one of the simplest parts of traveling to Iran, land of beauties. For more information, click HERE.
Is there a dress code in Iran?
Yes, it is. For more information about Iran Dress Code please click HERE.
What is the best time to visit Iran?
Iran is the country of four seasons and each month has its own beauty. Iran is a vast country with different climate zones; therefore, you can travel in every season you want. Whether it is summer, winter, spring or autumn, Iran welcomes you.
In spring, you can travel to different parts of the country since the weather is really enjoyable from west to east and north to south.
In summer, it is recommended to visit the north, northwest and northeast, the west, and the middle of the country (e.g. Isfahan) since the weather there is better than the southern or southeastern of Iran. Southern parts have hot weather in summer.
In autumn, the weather is bearable in all directions. All parts of the country, therefore, can be visited. However, the most recommended parts are south and center of Iran since the north, northwest, and northeast enjoy rain most of the time in this season.
In winter, the north, northwest, northeast and west experience snow while in the south sun shines and sometimes it is rainy. The center also enjoys rainy weather and in some parts, it is snowing, with cool days and cold nights. For more information about the best time to visit Iran, click HERE.

What should I do if I lose my passport in Iran?
Your chances of losing your passport in Iran are about the same as if you went anywhere else in the world, if not less. If you lose your passport in a hotel, restaurant, etc. you can return back there and ask for it. They will hold on to it. Iranian people are famous for their hospitality; they are honest. If you do not know where you lose your passport, however, you can refer to one of the Iran police stations or Iran passport offices. Having a photocopy of the data page of your passport along with a copy of your visa is also handy in case it actually is stolen.
What should I do if I get sick in Iran?
Fortunately, Iran has the greatest and best hospitals in the Middle East. All of the Iranian doctors, professional in their jobs, can speak English. If you get sick in Iran, ask people or locals, or the agencies you are traveling with to introduce you to a doctor and a good hospital. You won't have to worry about it.
It's noteworthy that Iran is one of the best countries for Health Care and Surgical Operations because of modern clinics and expert doctors. Therefore many patients from other countries come to Iran for curing and medication. Hence Medical Tourism is an important package held by Iranian tour operators and Iranian travel agencies recently.
To know more about medical services and medical tours being presented by Iran Sun World travel agency click here.
What should I do if I need more money in Iran?
There are some offices that will help you. They accept Master Credit Card and do all types of money transfer. However, you can also get a MahCard to minimize your risk. MahCard is a travel debit card for tourists in Iran.
What are the toilets like in Iran?
In Iran, most toilets are squat ones (Asian Toilets). However, in homes, hotels and some public places you can also find western toilets.
Will I travel as part of a group?
You can travel as a group or alone. Iran is one of the safest countries in the world. Therefore, you can travel individually easily and in calm. Read this article to know whether Iran is safe.
Can I use my mobile/cell phone while in Iran?
As a traveler, you cannot use your mobile/cell phone. Travelers can buy a SIM card on arrival. Iran has several mobile-phone networks. However, the only two government-owned MCI and MTN Irancell enjoy a wide coverage. You can buy a one-month Iran tourist SIM card sold at a booth in Imam Khomeini International Airport.
What is internet access like in Iran?
In most Iranian hotels you can ask for Wi-Fi. However, many cheap Iranian guesthouses and hotels may don't have Wi-Fi. But most of them have coffee-nets that you can access to the internet there. If you need regular internet, you can get an Iranian SIM Card. It is cheap and you will have internet access all around through your cell phone. You can charge it with money and use its internet.
Do I need to purchase travel insurance before traveling to Iran?
Never leave home without proper health insurance!
What is the official currency in Iran?
Iranian Rials (IRR) is the official currency in Iran. However, usually, prices are given in Tomans, not Rials. When you are shopping be sure that prices are in Rials or in Tomans. If they seem very expensive they might be in Rials.
1 Toman = 10 Rials.
What is ATM access like in Iran?
Thanks to the sanctions, you have to bring all the money you'll need in cash. You can use Iran's official currency. However, you can use Dollars or even Euros. You can also change them in Iran's currency exchange or in your country. There is also another choice: using MahCard. MahCard started in 2017 as a financial startup in Iran. It is currently working with different major banks in Iran to provide the best possible card solutions to non-Iranian visitors. You can get this card in Iran international airports and recharge in any branches of Sepah Bank, Melli Bank, and Tourism Bank across the country.
What are the emergency numbers in Iran?
Knowing the local emergency numbers seems useful. Unlike the European Union and North American countries, there is no single number for all emergencies in Iran.
Police: 110
Fire Department: 125
Ambulance: 115
Telephone Directory Number: 118
How is transportation in Iran?
If you are traveling through an Iran travel agency, the agency is responsible to provide you transport services. However, if you are traveling alone you should know about Iran's transports and transfers. If you want to transfer between cities, you can use flights among the most important cities in Iran. There are also trains on some routes. You can also ask for a private car or taxi to do your transportation. However, buses are the cheapest and the most common form of transportation in Iran. (If you want a comfortable bus ride, you can get a VIP ticket). If you want to transfer to cities again the cheapest one is buses. Many cities buses require transportation cards; however, you can pay for it in cash too. In some cities, there are trains and metro which are also cheap. Taxis (usually in yellow color) are also another means of transportation in Iran.
What are the most important foods and drinks in Iran?
Each part of Iran has its own culture. Since food is also part of the culture, it may differ from place to place. However, among the delicious Iranian cuisines, some are prominent. Persian cookery and taste of Persian foods are famous among other countries. Do not forget to eat Kebab (Kebob). It is really delicious. Ghormeh Sabzi is also Iranian national food. Most of the Iranian foods which are served for lunch consist of rice. There are also other fantastic foods and desserts you should try while in Iran. For more information, click HERE.
Most of Iranians drink tea. It is one of the most favorite drinks in Iran. Coffee is also common. Water, soft drink, douq (Iranian traditional drink made with yogurt) and juices are also served with foods. Do not forget that alcohol drink is forbidden in public places. You'll be fine drinking in private places.
Iranian traditional confections and sweeties are also very delicious and unique. Sowhan, Lowz, baghlava and Iranian traditional cookies are some examples. You can have very sweet memories in Iran. Don't forget to take back some traditional sweeties as delicious souvenirs from Iran.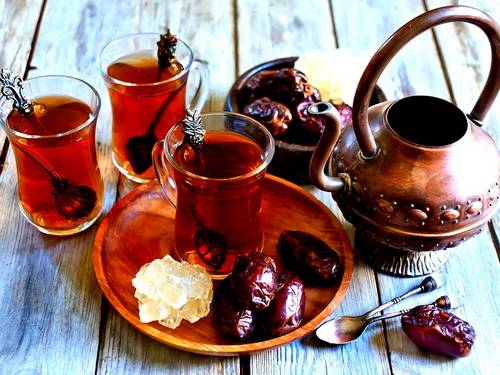 Which day is the weekend in Iran?
Friday is the weekend in Iran. All public and governmental offices are closed on Fridays. Many stores are also closed for the whole day.
What festivals and events are important in Iran?
Iran's public holidays commemorate both religious and secular events.
The biggest Iranian secular event is the Persian New Year. It is 13 days. However, the public offices are off duty Farvardin 1-4 (March 21–24). The other festivals include Oil Nationalization Day (March 20); victory of the Islamic Revolution of Iran (February 11); Islamic Republic Day (April 1); Sizdah be Dar or Iran Nature Day (April 2); death of Ayatollah Khomeini, the Leader of the Islamic Republic of Iran (June 4); and anniversary of the Arrest of Ayatollah Khomeini (June 5).
The most important Iran religious holidays (based on lunar calendar) include Tasua (Moharram 9); Ashura (Moharram 10); Arbaeen (Safar 20); Martyrdom of the Prophet Mohammed (Safar 28); Martyrdom of Imam Reza (Safar 30); Birth of the Prophet Mohammed (Rabi-ol-Aval 17); Martyrdom of Fatima (Jamadi-al-Okhra 3); Birth of Imam Ali (Rajab 13); Ascension of Holy Prophet (Rajab 27); Birthday of Imam Mahdi (Shaban 15); Martyrdom of Imam Ali (Ramazan 21); Eid al-Fitr (Shavval 1); Martyrdom of Imam Jafar Sadegh (Shavval 25); Eid-e Ghorban (Zu-l-Hejjeh 10); and Qadir-e Khom (Zu-l-Hejjeh 18).
Note that, Islamic events are based on the lunar calendar and dates move forward 10 or 11 days each year.
Iran as a hot tourist destination calls you. Travel, visit and enjoy all beauties of Iran. Iran Sun World Travel Agency provides Iran tourists all kinds of services and tours around Iran. Feel free to contact us!