Zinat ol-Molk House, the House of Well-known Men
Zinat ol-Molk Traditional House, the magnificent Qajar mansion, is one of the attractions of Shiraz, Iran. The mansion once belonged to Qavam ol-Molk family, ruled over Shiraz for years; The house was named after the daughter of the owner, Zinat ol-Molk.
This fabulous house is considered as the only house in Shiraz with a brick basement beneath its total surface.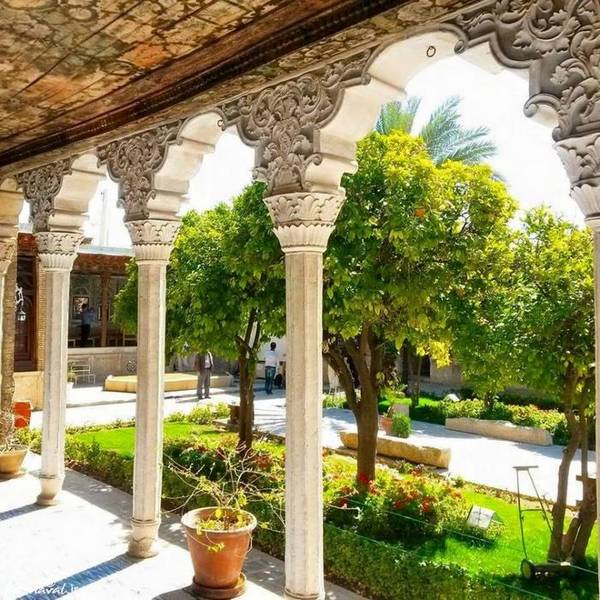 When and Where
The construction was started in 1290 AH and finished by 1302 AH by Ali Mohammad Khan Ghavam ol-Molk. This famous and spectacular building is located at Lotf Ali Khan Zand Street, next to Narenjestan Qavam Garden; indeed, it is connected to it by an underground way.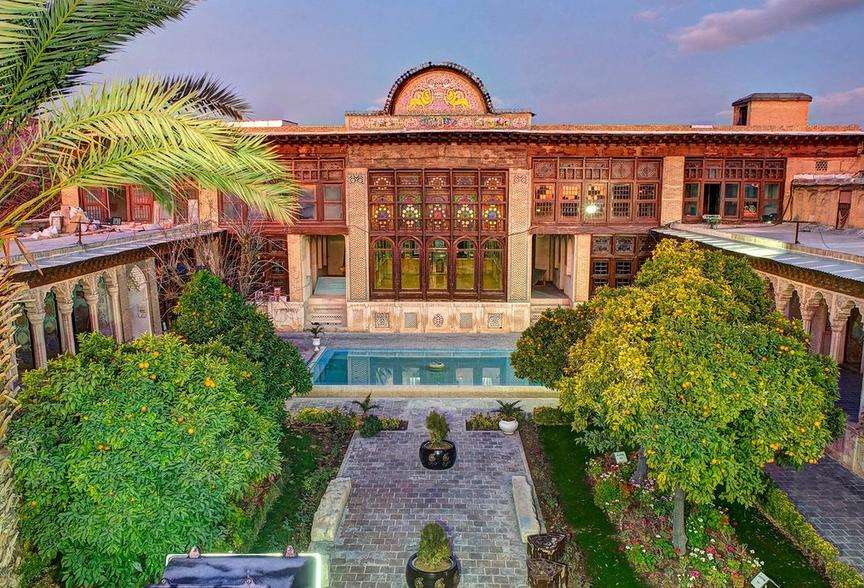 Architecture and Design of Zinat ol-Molk House
The main entrance of this gorgeous house opens to a beautiful courtyard with a big pool and two-bed gardens all surrounded by buildings having fantastic colorful windows. The seven-colored crescent-shaped tile work over the facade of the building showing two lions enhances its beauty.
The house has 20 interconnected rooms, open to one another, embellished with wood carvings, stone carvings, and elaborate mirror work (a kind of interior decoration by putting small pieces of the mirror together in a geometric form, etc.). The mosaic carpeted floor looks like a nice rug. Their ceilings are of wood decorated with paintings and various pictures of flower motifs, birds and animals.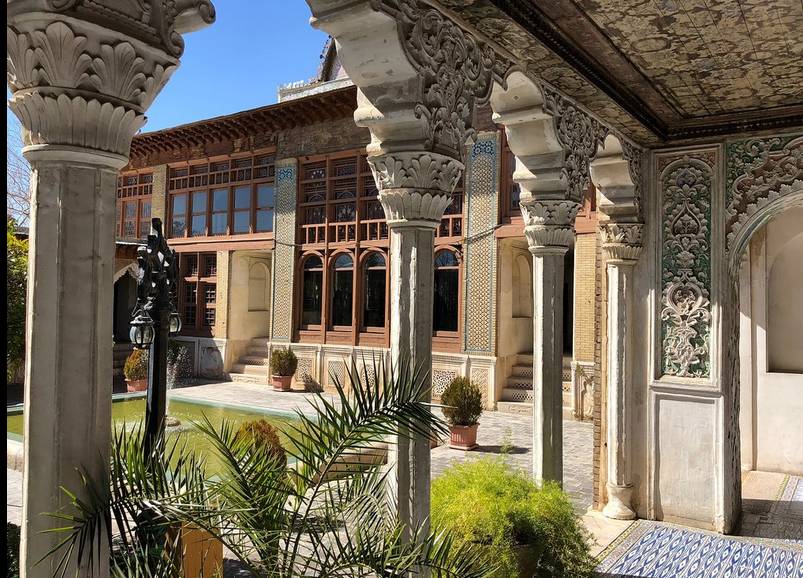 Zinat ol-Molk House has also a basement currently used as Fars Museum. In fact, its vast basement is used as a gallery to exhibit the outstanding figures of Shiraz and Fars province from pre-Islamic to the contemporary era. It should be noted that these waxy sculptures were created by a group of artists under the direction of Mr. Shans at the Foundation of Fars Studies for four years. At the entrance of the museum, there is the sculpture of Zinat ol-Molk, the owner, who welcomes the visitors.

When to visit Zinat ol-Molk House
This traditional house is open every day from 9:00 to 22:00. Tourists and visitors interested in visiting Nasir-al-Mulk Mosque and Narenjestan Garden can visit this attraction too.
In the spring and summer, the garden is in full flower and it is absolutely magical. You can spend a couple of hours there, drink coffee and enjoy the environment.
irantours24 under the name of Iran Sun World is a famous Iran Tour Operator offering Iran travelers all kinds of services with the best prices. For more information about Iran cultural tours, Iran health tours, Iran nomad tours, Iran sports tours, etc., contact us. Travel to Iran with us.