Margoon Gorgeous Waterfall
Margoon Waterfall is one of the most popular natural attractions of Fars Province, Iran. In the first six months of the year, especially in the springtime, it enjoys a spectacular and lush landscape and attracts a lot of travelers and tourists. Margoon gorgeous waterfall is one of the most beautiful waterfalls located in Marghoon Village, 48 kilometers from Sepidan county, Shiraz, Iran.
Margoon Waterfall is one of the most magnificent waterfalls in the world. You can reach this fantastic waterfall via a winding road through mountains. In this peaceful place, you can just hear the sounds of water and birds singing in a silence and tranquility environment. You can never experience the beauty of this natural attraction through a camera lens. Therefore, we offer all nature enthusiasts to visit this site.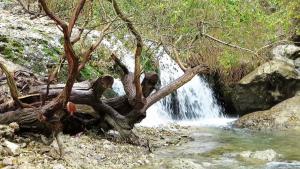 The area where Margoon is located is part of Zagros Mountain range. The main plant of the area is oak. You can also see Persian leopard, wolf, fox, brown bear, goat, boar, etc. there. Margoon is located in a mountainous area with an elevation of over 2,200 meters above sea level.
It is worth noting that there is no river at the top of the mountain where the water falls. In fact, the water flows from the heart of a rocky mountain that has more than thousands of springs in there. Margoon Waterfall has a height of 70 meters and a width of 100 meters.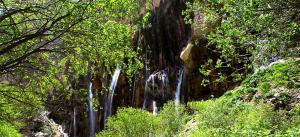 When to Go
This area is cold between November and April. Therefore, it is really cold and freezing in the winter, especially when it is snowing. It is better not to go there in winter. However, it is mild during the summertime. Indeed, Summer, spring and early fall are the best times to go there.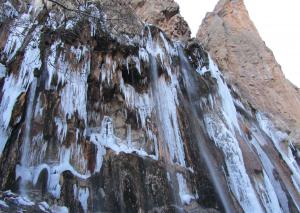 Margoon's Facilities
For Iran tourists and travelers interested in visiting this natural attraction, amenities such as parking, toilets and shops and recreational facilities such as sailing are also provided. Furthermore, if you want to stay there for one or two days, there are places to set the tents. There is no fee for entering the area.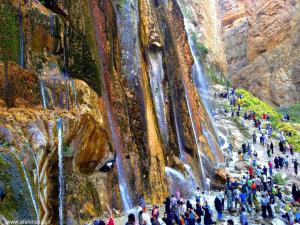 How to Reach Margoon
You can reach Margoon Waterfall in two ways. You can go there from Shiraz, Sepidan and then reach Margoon, or go there from Yasouj city. In the first way, you should drive 152 km from Shiraz, which takes about two and a half hours. In the second way, the distance from Yasouj to Margoon is about 65 km.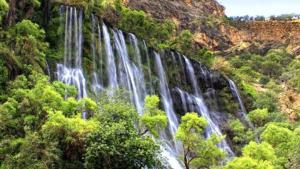 If you are interested in visiting this fantastic waterfall, contact us. Iran Sun World, as an Iranian Travel Agency and Iran Tour Operator, can provide you best services with least prices. Contact irantours24 consultants for best Iran tour offers.